Incense Cedar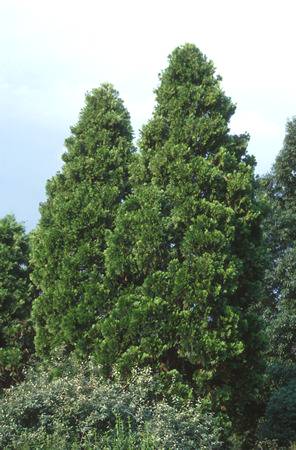 Incense-cedar forests are found primarily in southern Oregon and in California's Sierra Nevada mountains.
Tree Features

Needles: Scale-like and appressed to twig; set of four leaves is much longer than it is wide (and is shaped like long-stemmed wine glass); little or no white pattern on underside.
Fruit: Woody cones about 1" long; unopened cones are shaped like a duck's bill; open cones are shaped like a flying goose.
Bark: Flaky when young; platy, furrowed, and reddish-brown when mature.
Distribution: Native to the Cascade Mountains in Oregon and the Sierra Nevada mountains in California. Grow below 6600 ft. (2000 m) in Oregon, below 8000 ft. (2500 m) in California, and above 7500 ft. (2300 m) in Baja California.
Incense Wood
Incense-cedar wood is resistant to decay, making it very desirable for exterior use. This wood is used as mud sills, window sashes, sheathing under stucco or brick veneer construction, greenhouse benches, fencing, poles, and trellises. It is also widely used for exterior and interior
siding. Much of the top quality incense-cedar is used in the manufacture of pencils
Ranked as one of the most dimensionally stable wood species, Incense-cedar stands up to wide fluctuations in temperature and humidity without warping, checking or shrinking away from fasteners. It can be hand-tooled or machine-tooled to exact tolerances, and provides a smoother, more uniform surface than pine and other softwoods. Such properties make Incense-cedar an ideal material for the precision milling and machining processes of pencil-making as well as for outdoor siding, decking, moulding, interior, paneling, and landscape material. Even the bark is used as fuel for electric cogeneration facilities.
Incense-cedar is an abundant, renewable resource that is grown, managed, and harvested on a sustained-yield basis in accordance with the strictest forestry regulations in the world. The annual volume growth of Incense-cedar exceeds the annual harvest by a factor of two-to-one, ensuring an ample supply of the species well into the future.