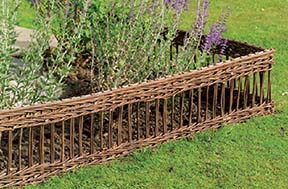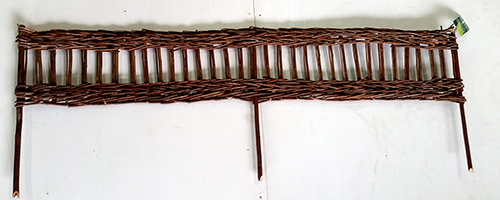 WE-40 setup in thr garden WE-40
Used commonly in European gardens, these natural willow edging kits are ideal in the outdoors where itís needed to define garden areas, or use them to separate walkways. Some of our edgings are made from tightly woven canes or saplings with integrated lattice designs, while others have a rustic classic divider design. All are economically sustainable and environmentally friendly.
Willow edging WE-45, 43, 44, 46, 47, 48 and 49 are slightly flexible so you can install them in an irregular or curving pattern. The WE-41 and 42 are a more rigid panel and is good for a straight line installation. If you require a steeper curve or circular pattern, you should use the extra long 72" long WE-47. Each Panel is 8" high, leg stake is 8" long, total height 16".
Our willow edging kit comes in a convenient package with the edging panel and black nylon coated wire included. They are held up by sturdy legs that push easily into the ground. Optional pressure treated wood stick may be required to support the panels depending on the ground's condition.
To install, just plant the willow edging panel footing securely into the ground and tie them together, if you need more information on installation, just click Installation of Trellis and Edging.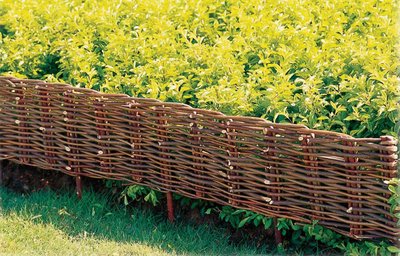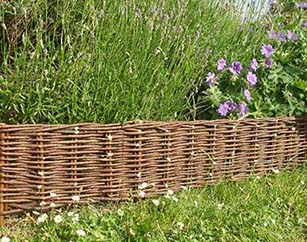 WE-47-6 extra long woven style edging, 6' long WE-47 set up in the garden, 4' long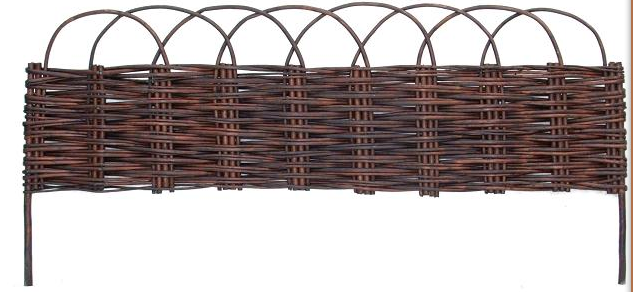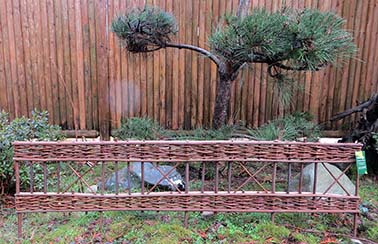 WE-48 available in 4' and 6' length WE-44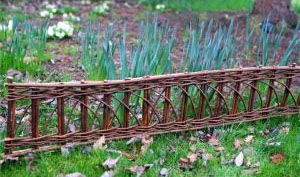 WE-45 WE-45, Weaving willow edging in the garden

Willow edging WE-46 WE-46 set up in the garden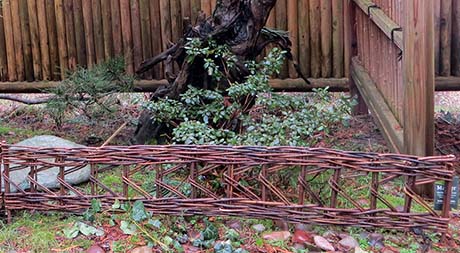 Willow edging WE-49 WE-49 in the garden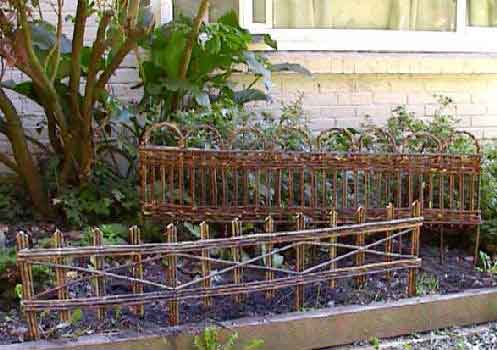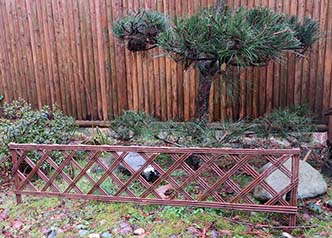 WE-43 at the top, WE-41 at the bottom WE-42
Key Features
Willow canes and saplings are rapidly renewable. Willow fences are ecologically sustainable compared to metal chain link or plastic edging.

Classic English garden willow edging used to define garden borders.

Easy set up with legs woven in with the panel.

Excellent as a divider and border in your lawn, flower bed, and pathways.

Easy to install, our willow edging kit comes complete with matching black nylon coated wire tie.

4 pieces of 6" long black nylon coated wire is included with each willow edging panel.

To improve the durability of the natural willow product, you can put a coat of linseed oil based preservative as yearly maintenance.

Optional garden stakes for edging setup.

Panel is 8" high, leg stake is 8" long, total height 16".
Pricing & Purchase
Item

Description

Price Price Pick your Quantity Package discount after add to cart

Sizes

please contact is for discounted freight quote for large quantity order

WE-40

Woven Willow Edging with vertical cross sections pattern.

single pc/ $12.65 + shipping
set of 2/ $24.54 + shipping
set of 5/ $59.45 + shipping

48"W x 16"H

WE-41

Picket Style Willow Edging

single pc/ $12.91 + shipping
set of 2/ $24.86 + shipping
set of 5/ $60.67 + shipping

48"W x 16"H

WE-42

Lattice Style Willow Edging

single pc/ $12.79 + shipping
set of 2/ $24.81 + shipping
set of 5/ $60.11 + shipping

48"W x 16"H

WE-43

Woven Willow Edging with vertical sections pattern & loop

single pc/ $13.51 + shipping
set of 2/ $26.20 + shipping
set of 5/ $63.49 + shipping

48"W x 16"H

WE-44

Woven Willow Edging with diamond pattern

single pc/ $13.88 + shipping
set of 2/ $26.92 + shipping
set of 5/ $65.23 + shipping

48"W x 16"H

WE-45

Woven Willow Edging with cross pattern.

single pc/ $13.95 + shipping
set of 2/ $27.06 + shipping
set of 5/ $65.56 + shipping

48"W x 16"H

WE-46

Vertical Woven Willow Edging with cross sections pattern.

single pc/ $14.22 + shipping
set of 2/ $27.58 + shipping
set of 5/ $66.83 + shipping

48"W x 16"H

WE-47

Woven Willow Edging

single pc/ $13.13 + shipping
set of 2/ $25.47 + shipping
set of 5/ $61.71 + shipping

48"W x 16"H

WE-47-6

Extra Long 6' Flexible Woven Willow Edging

set of 1 / $21.82 + shipping
set of 2 / $42.77 + shipping
set of 4 / $84.66 + shipping
set of 6 / $126.99 + shipping

72"W x 16"H

WE-48

Willow Edging with loop (include 2 extra loops, installation required)

single pc/ $13.95 + shipping
set of 2/ $27.02 + shipping
set of 5/ $65.47 + shipping

48"W x 16"H

WE-48-6

Extra Long 6' Flexible Woven Willow Edging with loops

set of 1 / $24.82 + shipping
set of 2 / $49.52 + shipping
set of 4 / $98.62 + shipping
set of 6 / $148.32 + shipping

72"W x 16"H

WE-49

Willow Edging with arrow pattern

single pc/ $13.82 + shipping
set of 2/ $26.81 + shipping
set of 5/ $64.95 + shipping

48"W x 16"H

GWS-20

Garden Wood Stakes

set of 4 / $2.50 + shipping
set of 8/ $4.50 + shipping
set of 12 / $6.50 + shipping

20"H x 1.5"D