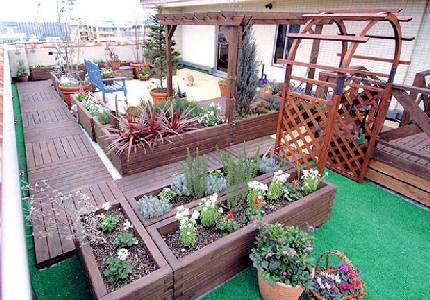 Carrots sprouting from the rooftops, sunflowers stretching to the sky. It sounds like an urban oasis. But before you start hauling flower flats and pitch forks up to the roof, here's some dirt on rooftop gardening:
- There are two main types of green roof. "Extensive" green roofs accommodate low-maintenance, drought-tolerant plants such as hardy mosses, sedums and grasses growing in shallow layers of growing medium. They are lightweight, installed for ecological reasons, with the vegetation acting as another layer of roofing material, usually covering the whole roof. But they are not meant to be accessible to people.
"Intensive" green roofs, however, are people-friendly. They may include garden beds up to two feet deep that can accommodate trees and shrubs. There might be a deck, even a waterfall and vegetable beds. They are subject to building and zoning codes, and will require proper exits, guard rails and lighting.
- Either way, experts caution against doing it yourself. Even if your plan involves just a few containers for growing tomatoes, it is best to hire a structural engineer and a qualified installer. The primary concern before installing a rooftop garden is the weight-bearing capacity of the roof. A new waterproof membrane might also be required to prevent water leakages.
- Another important consideration is exposure to the elements. Rooftop gardens are more exposed to wind and heat than those at ground level. It can be up to five degrees Fahrenheit hotter up there.
- Access and safety are governed by municipal bylaws which differ from one city to another. Guard rails will need to be installed around the perimeter of the roof to prevent falls. And there will need to be a stairway for people to access the garden and, ideally, a water tap.
- Use lightweight growing mediums containing perlite, vermiculite, compost and peat moss rather than soil, which weighs too much when wet and becomes overly compacted.
- Terracotta containers look beautiful, but they are too porous. Whether on the roof, the balcony or the front stoop, opt for our cedar wood rooftop containers that conserve water. One way to do it is do put in a layer of plastic within the wood planter when planting to avoid excessive loss of water. Avoid containers smaller than eight inches in diameter, as they dry out too quickly.
-Rooftop raised bed is our recommended way to build a larger areas of planting without the extensive total greenroof that require large engineering project with professional help.
Rotem Ayalon, of the Rooftop Garden Project, recommends a container at least the size of a recycling bin, with a water reservoir at the bottom. A closed system, she says, will require watering once every two or three days rather than several times daily.
- Choose plants that can withstand the heat and wind. Tomatoes and peppers, which thrive in sunny conditions, are ideal in rooftop containers.
As for flowers, sedums, ornamental grasses and many rudbeckias can withstand drought and wind