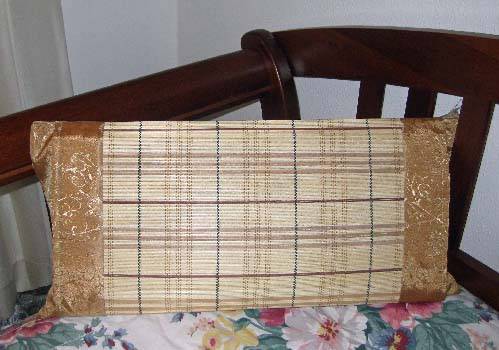 Bamboo charcoal pillow Shipping package shown
Our bamboo charcoal pillow is wrapped covered with a sheet of natural looking woven bamboo matting. You can put them in a regular pillow case if you like. With negative ions and far-infrared properties, bamboo charcoal pillows are believed to be good for sour shoulders, insomnia and respiratory health. Sun them once a month for effectiveness. Each pillow comes pack in pvc case with handle, excellent as gift.
Dimension is 22"L x 12"W x 4" H.
Key Benefits:
Bamboo product is green and has earn reputation being organic and environmental friendly.

Bamboo charcoal pillow will help remove odor in your room.

Help healing your body naturally.

Can be reuse by washing the charcoal power in the bag.
Pricing & Purchase
| | | | | |
| --- | --- | --- | --- | --- |
| Item | Description | Price | Sizes | |
| BCP-22 | Bamboo charcoal Pillow | $25.83 + free shipping, | 22"L x 12"W x 4" H. | |