Related Products
Up
Bamboo Pole
Bamboo Rod
Bamboo Dowel
Black Bamboo Pole
Speckled Bamboo Pole
Bamboo Stakes
Solid Bamboo Pole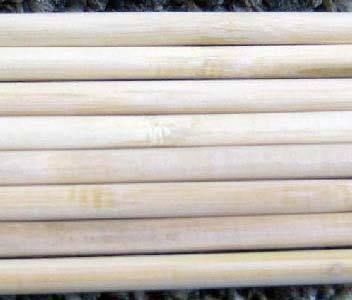 BRD-2, 1/4" diameter bamboo dowel, blonde color
Bamboo dowels are stronger than hardwood at only a fraction of the cost. They are more flexible, and are an ecologically sustainable material. Use them to replace your hardwood dowels!
The natural bamboo dowel BRD series comes in sizes from 3/16", 1/4", 3/8" in diameter, and the length is 36". Custom sizes are available. If you are looking for a larger diameter bamboo dowel or rod, we do supply bamboo rods up to 2".


BRD-2, 1/4" diameter bamboo dowel, blonde color
Key Benefits
Ecologically sustainable material.

Stronger and lighter than most hardwood materials and have more flexibility.

Use them to replace hardwood dowels at a substantially lower cost.

Different sizes to choose from.

Solid core.
Pricing & Purchase
| | | | | |
| --- | --- | --- | --- | --- |
| Item | Description | Price | Size | |
| BRD-1 | Natural Bamboo Dowel, 10/pack, blonde color | $5.22 +shipping | 1/4"D x 36"L | |
| BRD-2 | Natural Bamboo Dowel, 20/pack, blonde color | $4.34 +shipping | 1/4"D x 24"L | |
| BRD-3 | Natural Bamboo Dowel, 10/pack, blonde color | $8.28 +shipping | 3/8"D x 38"L | out of stock |
| BRD-312 | Natural Bamboo Dowel, 10/pack, blonde color | $12.14 +shipping | 3/8"D x 12"L | out of stock |