Related Products
Up
Bamboo Teepee
Expandable Bamboo Poles Trellis
Bamboo Ladder Trellis
Bamboo Trellis Screen
Bamboo U Hoop Plant Support
Bamboo Expandable Trellis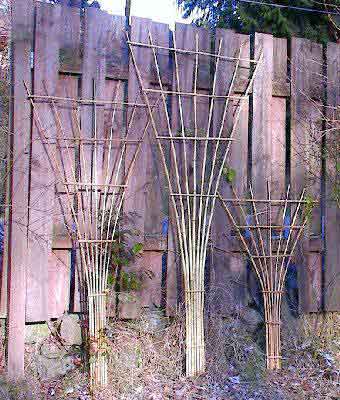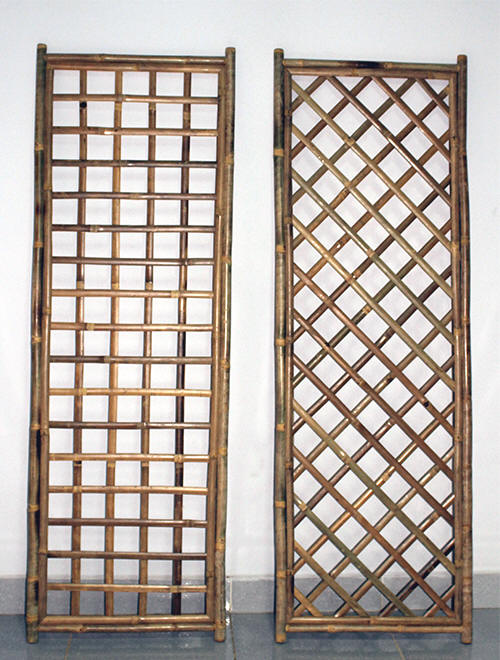 BFT series Bamboo fan trellis 6',and 4'H BWT-26S, Square Open Pattern, BWT-26D, Diamond Open Pattern
Framed bamboo trellis screen can be hung over an open wall, or used as a fence or trellis for a climbing vine. These bamboo trellises are handcrafted using an old traditional technique of bamboo dowels and polyester ties, meaning no metal hardware are used to prevent rusting. Using solid 1.5" bamboo poles as the frame, these trellises are solid and durable.
Our bamboo fan trellises screen are built to last, same as the wall trellis, the bamboo fan trellis are pegged together using bamboo dowels, and are naturally bent to form an elegant fan shape. They come in three different sizes, 4', 6', and 7' feet in height. Natural finished.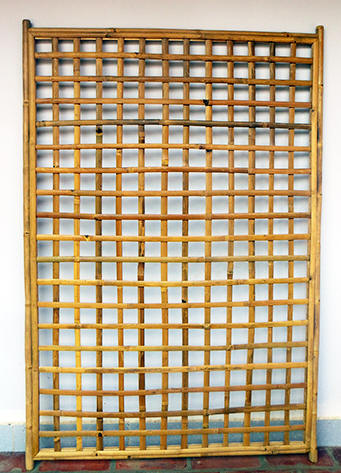 Click for information on Installation of Trellis and Edging.
Key Features
Flexible bamboo trellis uses aluminum rivets to prevent rust.

Can expand and fold to various lengths and heights for different needs in the garden.

Excellent as fencing screen and divider in the garden.

Strong trellis support for heavy climbing vine and vegetable.
Pricing & Purchase
Item

Description

Price

Sizes

BFT-72

Bamboo fan trellis, 6' H

$16.21+ shipping

34"W x 72"H

BFT-48

Bamboo fan trellis, 4' H

$9.85+ shipping

30"W x 48"H

BWT-26S

Framed Bamboo Lattice Panel, square opening pattern.

$55.37+shipping, please contact us or call for discounted freight for 4 panels & over shipping,

24"W x 72"H

BWT-25S

Framed Bamboo Lattice Panel, square opening pattern.

$46.88+shipping, please contact us or call for discounted freight for 4 panels & over shipping,

24"W x 60"H

BWT-26D

Framed Bamboo Lattice Panel, diamond opening pattern.

$55.37+shipping, please contact us or call for discounted freight for 4 panels & over shipping,

24"W x 72"H

BWT-46S

Framed Bamboo Lattice Panel, square opening pattern.

$88.76+shipping, please contact us or call for discounted freight for 4 panels & over shipping,

48"W x 72"H

BWT-46D

Framed Bamboo Lattice Panel, diamond opening pattern.

$88.76+shipping, please contact us or call for discounted freight for 4 panels & over shipping,

48"W x 72"H

BWT-66S

Framed Bamboo Lattice Panel, square pattern opening

single pc/ $108.53 + shipping
set of 2/ $212.71 + shipping
set of 3/ $319.07 + shipping
set of 4/ $421.09 + shipping

72"W x 72"H

BWT-66D

Framed Bamboo Lattice Panel, diamond opening pattern.

single pc/ $108.53 + shipping
set of 2/ $212.71 + shipping
set of 3/ $319.07 + shipping
set of 4/ $421.09 + shipping

72"W x 72"H