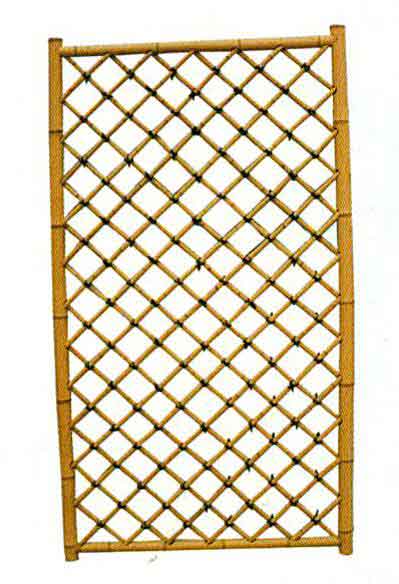 Bamboo Gridwall Panels 3xBGP-06 Bamboo lattice fence BWT-36
Our popular framed bamboo lattice fences are pre-assembled and easy to set up by tying them together with a galvanized wire. The frame is made of 2" heavy bamboo poles and the trellis is made of 1/2" bamboo poles. Two different patterns to choose from, the square and the diamond trellis with an opening in the middle.
Our bamboo trellis fences are flexible and can be used as a trellis, fence, gate, border divider, or just for decorative purposes. They are perfect for training vines and vegetables, supporting tomatoes, and more. Place them vertically or horizontally for various uses in the garden. We have many different sizes to choose from. Whole bamboos that we use are about 1/2" to 5/8" thick that are linked together with sturdy aluminum rivets. Also makes a great enclosure for small pets.
Key Features
Framed bamboo lattice fence provides a finished look and is inexpensive.

Use vertically as a trellis for climbing vines up to 10' or more in height.

Use horizontally as fences, gates, or flowering bed borders.

Bamboo is a rapidly renewable material. They are harvested every two to three years, which results in less stress on our environment.
Pricing & Purchase
| | | | | |
| --- | --- | --- | --- | --- |
| Item | Description | Price | Size | |
| BWT-36 | Framed Bamboo Lattice Panel | $75.37+shipping, please contact us or call for discounted freight for 4 panels & over shipping, | 36"W x 72"H | |
| BWT-63 | Framed Bamboo Lattice Panel | $75.37+ shipping, please contact us or call for discounted freight for 4 panels & over | 72"W x 36"H | |
| BGP-07 | Classic Bamboo Grid wall Panel | $56.32 + shipping, | 24"W x 84'H | |
| BGP-06 | Classic Bamboo Grid wall Panel | $58.22 + shipping | 24"W x 72'H | |
| BGP-05 | Classic Bamboo Grid wall Panel | $41.54 + shipping | 24"W x 60'H | |
| BGP-36 | Classic Bamboo Grid wall Panel | $67.32 + shipping | 36"W x 72'H | |