Related Products
Up
Curved Top Bamboo Panel
Framed Bamboo Panel
Wood Framed Bamboo Fence
Big Pole Bamboo Fence Panel
Lattice top Board Fence
Bamboo Lattice Fence Panel
Misugaki Bamboo Fence Panel
Bamboo Theme Fence
Black Bamboo Fence Panel
Bamboo Branch Fence Panel
Fence Post & Acessories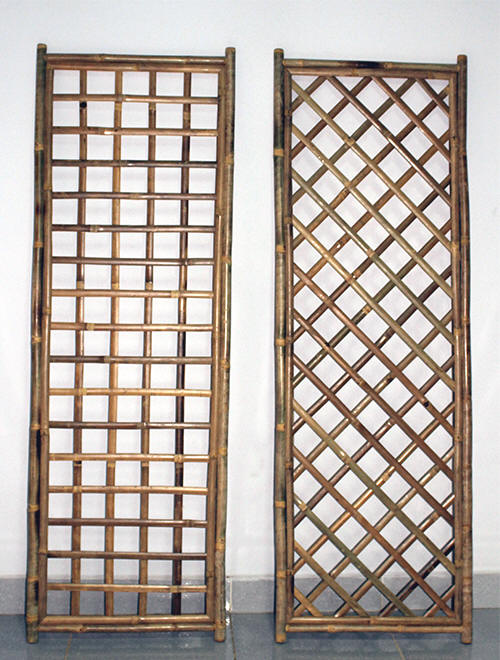 BWT-26S, Square Open Pattern BWT-26D, Diamond Open Pattern
Our popular framed bamboo lattice fence panels are pre-assembled and easy to set up by tying them together with a galvanized wire. The frame is made of 1.5" Calcutta solid bamboo poles and the trellis is made of 1" bamboo slats. Two different styles to choose from, the square and the diamond trellis with an opening pattern. Sizes available in 2'W x 6'H and 4'W x 6'H.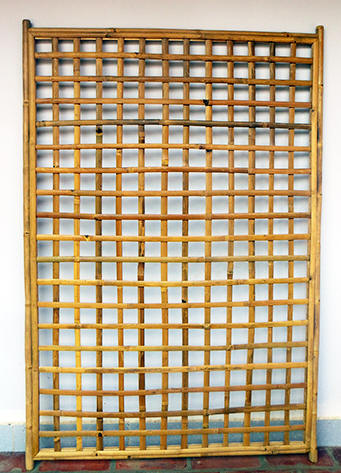 BWT-46D, Diamond Open Pattern, 48"W x 72"H BWT-46S, Square Open Pattern, 48"W x 72"H
Key Features
Framed bamboo lattice fence provides a beautiful finished look.

Excellent as a garden silhouette.

Use vertically as a trellis for climbing vines up to 10' or more in height.

Use as fences or dividers.

Bamboo is a rapidly renewable material. They are harvested every two to three years, which results in less stress on our environment.
Pricing & Purchase
| | | | | |
| --- | --- | --- | --- | --- |
| Item | Description | Price | Size | |
| BWT-26S | Framed Bamboo Lattice Panel, square pattern opening | $55.37+shipping, please contact us or call for discounted freight for 4 panels & over shipping, | 24"W x 72"H | |
| BWT-26D | Framed Bamboo Lattice Panel, diamond pattern opening | $55.37+shipping, please contact us or call for discounted freight for 4 panels & over shipping, | 24"W x 72"H | |
| BWT-46S | Framed Bamboo Lattice Panel, square pattern opening | $88.76+shipping, please contact us or call for discounted freight for 4 panels & over shipping, | 48"W x 72"H | |
| BWT-46D | Framed Bamboo Lattice Panel, diamond opening pattern. | $88.76+shipping, please contact us or call for discounted freight for 4 panels & over shipping, | 48"W x 72"H | |