WBR-36 front view, hold 42 bottles Side view WBR-36
We design and manufacture a full line of wine barrel storage and display racks for residential and commercial uses. Our exclusive full barrel wine rack provides plenty of room to display 36 to 42 bottles of your favorite wines. It is perfect for retail wine and liquor display, as well as at home or commercial wine cellar. It is an excellent POP stand for wine and liquor promotional events.
The barrel display rack is constructed from reclaimed oak wine barrel staves, and every piece of wine barrel staves used is cleaned, sanded, and kiln dried, to ensure the quality of the rack. Lacquer finished.
We offer three designs for you to choose from, the one shelf WBR-36F with a counter top holding 36 bottles, two shelves WBR-30F holding 30 bottls, and the all rack WBR-36 holding 42 bottles. Dimension of the barrel shelf is 36"H x 25" W x 10"D.

Full barrel display unit WBR-36F, hold 36 bottles.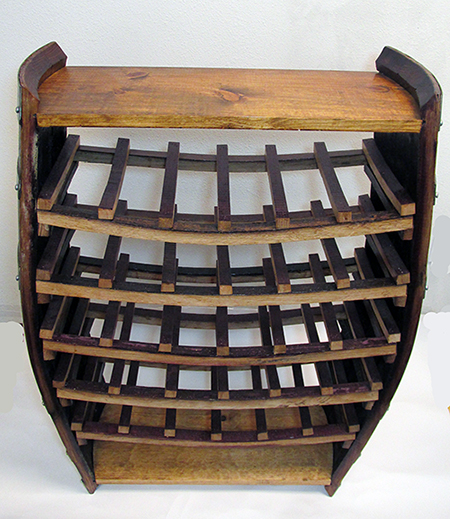 Full barrel display unit WBR-30F, hold 30 bottles.
Key Features
Handcrafted using straight grain French oak wood reclaimed from recycled genuine wine barrels. You save money and put less pressure on the Earth's resources.

Each oak stave used is hand sanded and kiln dried.

Put them in your cellar, retail store, bar and tavern to display and store your favorite wines.

WBR-36F with barrel top will hold 36 bottles and the WBR-36 with rack top will hold 42 bottles.

Can be secured to the wall with wood screws.

Each individual item's appearance and color tone may vary due to the reclaimed barrel material used in the product.
Pricing & Purchase
| | | | | |
| --- | --- | --- | --- | --- |
| Item | Description | Sizes | Price | |
| WBR-36 | Whole barrel wine rack with rack top, holds 42 bottles | 36"H x 26"W x 10"D | $295.35+ shipping | |
| WBR-36F | Whole barrel wine rack with counter top, holds 36 bottles | 36"H x 26"W x 10"D | $278.21+ shipping | |
| WBR-30F | Whole barrel wine rack with 2 shelves, holds 30 bottles | 36"H x 26"W x 10"D | $285.21+ shipping | |