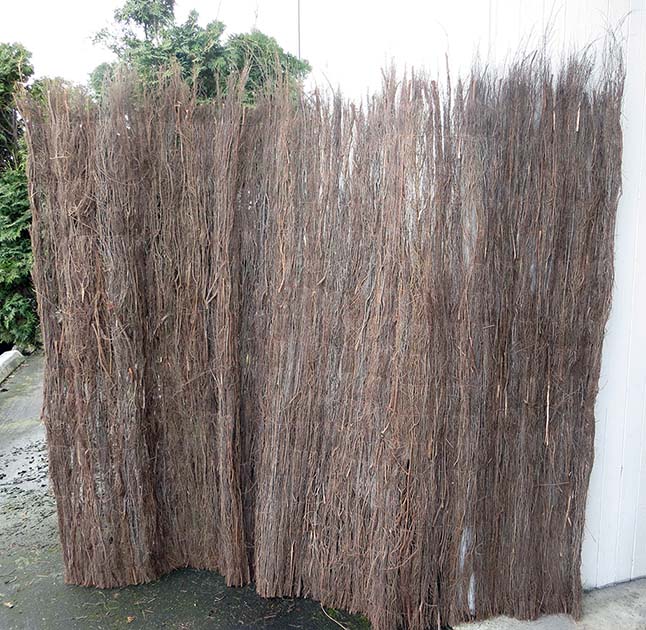 Untrimmed heather brushwood fence Close look at our bottom part of Heather brush fence
If you want a natural looking fence that looks like it just grew right out of your garden, then you should go with our untrimmed Heather brushwood fences. They are the exact same fences as our popular heather brushwood fence but with a natural untrimmed top. They are most suitable for zoos, botanical gardens, theme parks, etc. These fences will surely bring a piece of the wilderness into your backyard.
Our heather fences are a minimum of 3/4 inches thick, most others in the market are only a 1/2 inch thick. You can order an extra 1 inch more for thickness. Our untrimmed heather fence products are woven with brown nylon coated wire to prevent rust and will blend right into the fence to give it that natural appearance unlike other heather fence that uses bare metal wires that are also most likely to rust.
For information about installing rolled fences, click Installing Rolled Fences.
Key Benefits
Heather brushwood fences are made of dwarf pine, which are fuzzy in texture and very dark.

Weaved together with brown nylon coated wire.

Good opacity for privacy fencing.

Our fence is 3/4" thick, more than double of other fences in the market. Check with other suppliers about thickness of their fence before you buy.

Custom sizes are available. Please call us for prices.
Pricing & Purchase
| | | | | |
| --- | --- | --- | --- | --- |
| Item | Description | Price | Size | |
| HF-15-UT | Untrimmed Natural Heather Brushwood Fence | $75.75 + shipping | 6'H x 14'L | out of stock |
| HF-4-UT | Untrimmed Natural Heather Brushwood Fence | $58.24 + shipping | 4'H x 14'L | out of stock |