Related Products
Up
Bamboo Screen & Divider
Willow Screen
Willow Garbage Can Enclosure

Willow screen, WSC-60-4 WWC-72-4 screen show in Optional 4 panel setup
Our self standing willow screen and room dividers can be used indoors or outdoors, in residential or any commercial facilities, to divide an area for privacy or to create an extra room. They can be folded and stored away easily when not in use.
Our self standing willow screens are great for outdoors and indoors, option of 3 or 4 panel sets.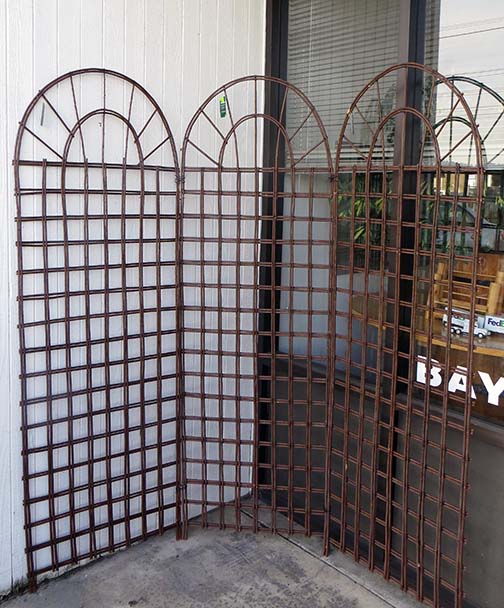 Willow screen, WRC-72

Key Features
Three panel self standing willow screen dividers.

Can be used as a divider or just as decoration.

Foldable and stores away easily when not in use.

Use outdoors or indoors.
Pricing & Purchase
| | | | | |
| --- | --- | --- | --- | --- |
| Item | Description | Price | Size | |
| WSC-60 | Three panel willow screen sets, 18"/panel | $75.30 + shipping, High shipping cost due to oversize packages | 54" W x 60"H | |
| WSC-60-4 | Four panel willow screen sets, 18"/panel | $98.82 + shipping, High shipping cost due to oversize packages | 72" W x 60"H | |
| WWC-72 | Three panel willow screen sets, 24"/panel | $76.87 + shipping, High shipping cost due to oversize packages | 72" W x 72"H | Out of stock |
| WWC-72-4 | Four panels willow screen sets, 24"/panel | $104.65 + shipping, High shipping cost due to oversize packages | 96" W x 72"H | Out of stock |
| WRC-72 | Three panel round top willow screen sets, 24"/panel | $77.65 + shipping, High shipping cost due to oversize packages | 72" W x 72"H | |
| WRC-72-4 | Four panel round top willow screen sets, 24"/panel | $105.51 + shipping, High shipping cost due to oversize packages | 96" W x 72"H | |