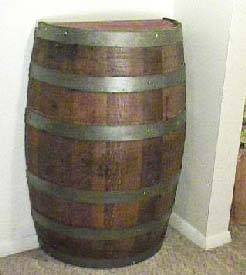 Lacquer finished split barrel stand Lacquer coated wine barrel on saddle
We recycle these wonderful used wine barrels and reuse them in a variety of ways. Our whole or split barrels are very popular as decorations as well as practical uses in places such as a bar or restaurant, or in your very own home. Split barrels are great to be put against the wall, or around any corners, or areas with limited space.
Click here to learn more about wine barrel care, maintenance, and procedures on how to use them.
The oak trees selected for these wine barrel staves must be straight and free of knots. Most trees chosen are more than 100 years old and cut during autumn or winter when the sap is low. The log is then aged for 18 months to 3 years, with the average desired time of at least two years. Staves are then trimmed into a double taper and set on their ends within an iron "raising up" hoop. Next, a strong stave is chosen to be drilled for the bung hole. At this stage, the barrel is a skirt of staves splayed out from the hoop at the top.
The oak wood wine barrel is then placed on a small, metal fire pot or pile of wood chips to receive its first toasting and to make the staves more flexible. Water is sprayed on the inside and outside to help the wood become more flexible and to keep it from getting toasted too quickly. During this time of about 20 minutes, the cooper walks around the barrel knocking down temporary hoops to bend it into shape. The cooper then wraps cables around the bottom of the barrel to cinch up the base. Another temporary hoop is used to bring the base together. A second toasting may occur depending on what the winemaker orders. Toasting gives wine the much sought after aromas (vanilla, almond, and caramel). After the heads of the barrels and the final galvanized hoops have been fitted, the barrel is planed and polished. This is how the barrel is made.

WB-35 without lacquer
Key Benefits
These are genuinely used wine barrels as oppose to the rusty whisky barrels sold in large home centers. You could still see the red wine stain inside and the smell of wine.

The wine seasoned interior of our barrel planters make them more resistant to rotting than any other new wood barrel planters in the market.

Made of oak wood and finished with outdoor protective sealer to prolong usage in the garden.

Elegant perfect round barrel body design, with three bands of galvanized steel strapped around the planter. The straps are pegged onto the barrel wall to prevent them from sliding down.

Split barrels are ideal for tight corner spaces against the wall or around any corner. Great for your home and business.
Pricing & Purchase
| | | | | |
| --- | --- | --- | --- | --- |
| Item | Description | Price | Sizes | |
| WB-35 | Oak wood Whole Wine Barrel. | $110.15+ shipping | 26"D x 35"H | |
| WWB-35 | Water Tight Oak wood Whole Wine Barrel. | $135.15+ shipping | 26"D x 35"H | |
| WB-35P | Oak wood Whole Wine Barrel , gloss lacquer finish for indoor. | $143.90+ shipping | 26"D x 35"H | |
| SBP-26T | Oak wood Split Wine Barrel Stand. | $89.21+ shipping | 26"W x 35"L x 13"D | |
| SBP-26TP | Oak wood Split Wine Barrel Stand, Gloss Lacquer Finished | $106.71+ shipping | 26"W x 35"L x 13"D | |
| WBS-20 | Barrel Saddle | $21.75+ shipping | 16"L x 6"H | |