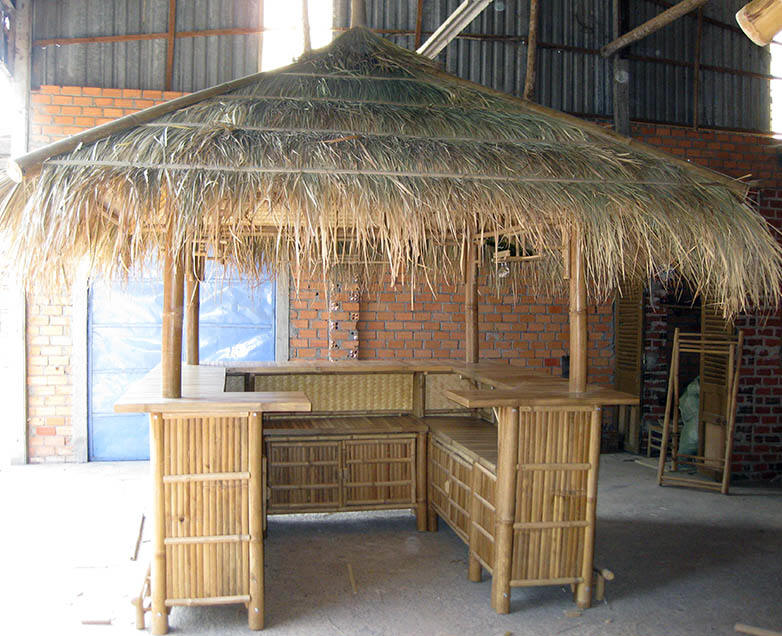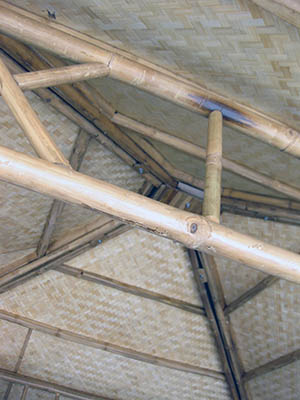 TAHB-8, Tahiti Bar Hut Ceilling with bamboo mat finished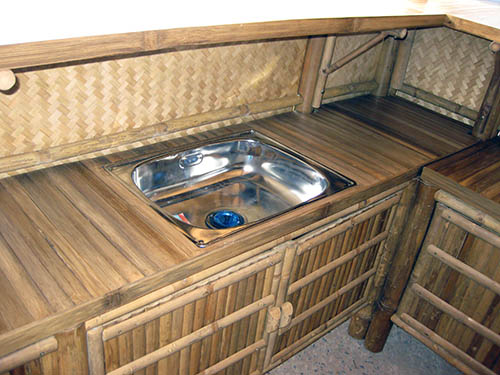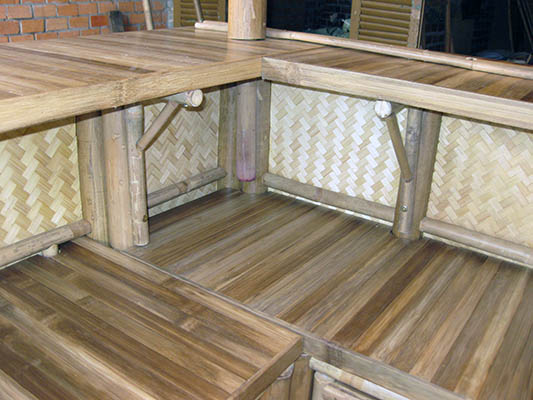 Dry sink on one side of lower working counter Bamboo Tahiti Bar Hut with a recessed mixing counter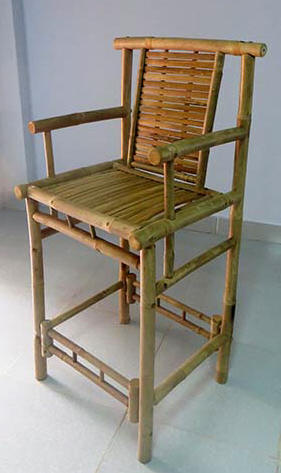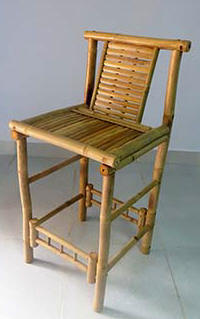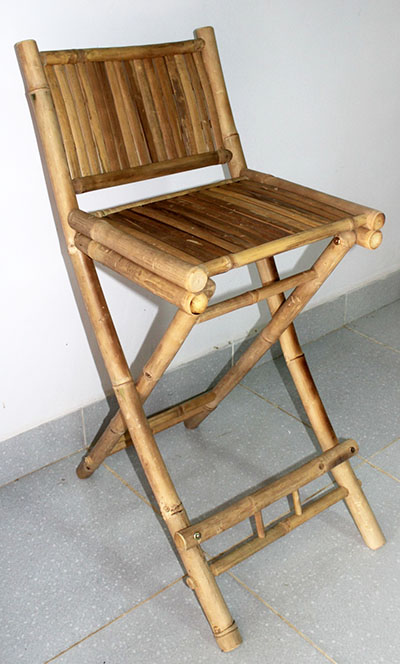 TBC-30, KD Bar Stool THB-30A, KD Bar Stool FBS-30 Foldable Bar Stool
Eye catchingTahiti bamboo bar hut is designed with a lower recessed mixing counter, it comes with a classic professional bar counter design with a dry stainless sink built in. You can entertain and serve your friends or customers without distraction from your preparation. It is great for sport event, music venue promotion, use it as center center, or serving drink and food.
The hut bar provides generous counter shelf space underneath the counter and doors are built in to protect from dirt or insects.. Counter top is 8" overhanging the cabinet wall to provide ample leg room, leg rest rack is strategically located just above the footing, you can also hang your glasses on the rack just about the counter top. The roofs panel is hanging 8" over the edge of the counter. The counter is 30" wide, and 44" high. The roof is build with tropical elephant grass thatching on a good 1/4" bamboo plywood. We also offer a full line of bamboo bar stools to match the bamboo tiki bar hut.
Assembly with at least three persons is required to put the big panels together, packages will be shipped via commercial trucking and for curbside delivery only.
Key Benefits
Classic bar design feature a top serving counter and lower mixing counter to party preparation.

Constructed with Vietnam crack resistent Vam Tong bamboo.

The counter is 30" wide and 44" high, 8' long in a square layout. The overall dimension of the tiki hut bar is 11' high 9' wide.

Amble shelves space under the counter with doors.

One stainless dry sink.

Two glass rack above the counter.

Bamboo bar is finished with a coating of lacquer.

Smooth bamboo strip counter top.
Pricing & Purchase
Item

Description

Price

Sizes

TAHB-8

8' Regular Bamboo Tahiti Hut Bar

$3950.00 + shipping

8'W x 11'H

out of stock

THB-30

Tiki Bar Stool with back support, 45" overall height, seat height 30", KD

single pc/ $81.71 + shipping
set of 2/ $157.56+ shipping

18"W x 45"H

THB-30A

Tahiti Bar Stool with back and arm support, 45" overall height, seat height 30", KD

single pc/ $88.96 + shipping
set of 2/ $168.81 + shipping

20"W x 46"H

FBS-30

Foldable Bamboo Bar Stool with back support, 39" overall height, seat height 30",

single pc/ $59.24 + shipping
set of 2/ $118.09 + shipping

18"W x 16"D x 39"H
* Due to the oversize package of the bar units, the freight is predetermined based on the motor freight trucking rate. Only good for shipping to lower 48 states.
Other customers please call 1-253-939-5757 for freight and order information or by email