Mater Garden Products
Innovate to Conserve Natural Resources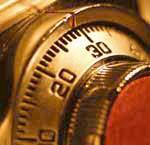 We want your shopping experience to be enjoyable and secure. That is why we guarantee that every transaction you make at Master Garden Products will be 100% safe. Period. This means you pay nothing if unauthorized charges are made to your credit card as a result of shopping at Master Garden Products. See guarantee details below.
When you shop at Master Garden Products you will be one of the many customers who have safely shopped with us without credit card fraud.
To safeguard all your shopping transactions we employ the latest security methods in protecting your personal information. This includes a VeriSign Secure Server Certificate to encrypt your credit card and personal information during a purchase. Master Garden Products employs the Internet's Secure Socket Layer ("SSL") security technology. If you access the Internet with a recent version of Netscape Navigator or Microsoft Internet Explorer your browser supports SSL. When you begin the checkout procedure your browser will automatically be directed to our secure commerce server so that all your personal information will be encrypted before it is transmitted over the Internet. It's easy to tell when you are protected by encryption – the lock or key at the bottom of your browser changes color or is no longer open/broken. This may vary depending on your browser.
As an added measure of protection, Master Garden Products does not store any credit card information on our web server. This means that should anyone be able to gain unauthorized access to our website, they will not be able to access any of our customers credit card information. As a consequence, regular Master Garden Products customers are inconvenienced by the need to re-enter payment information each time they make a purchase at our website. We feel the extra security and piece-of-mind this offers our customers more than makes up for the small inconvenience. This is not standard practice on the Internet and just another reason why people prefer shopping with us.
Safe Shopping Guarantee Details:
If you experience fraudulent use of your credit card as a result of shopping online with Master Garden Products, notify your credit card company in accordance with its rules and procedures. Under the Fair Credit Billing Act, your bank cannot hold you liable for more than $50.00 of fraudulent charges. If your bank does hold you liable for any of this $50.00, Master Garden Products will cover the entire liability for you, up to the full $50.00.
Our private policy for your protection
Copyright 2001. Master Garden Products. All Rights Reserved.
Send mail to webmaster@mastergardenproducts.com with questions or comments about this web site.
Last modified: February 08, 2020