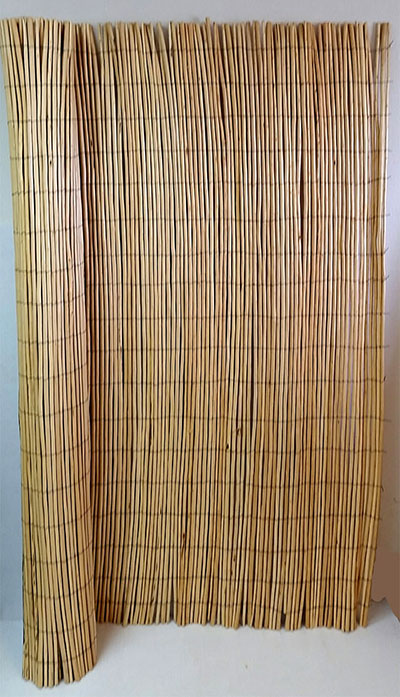 Mahogany Classic willow fence close up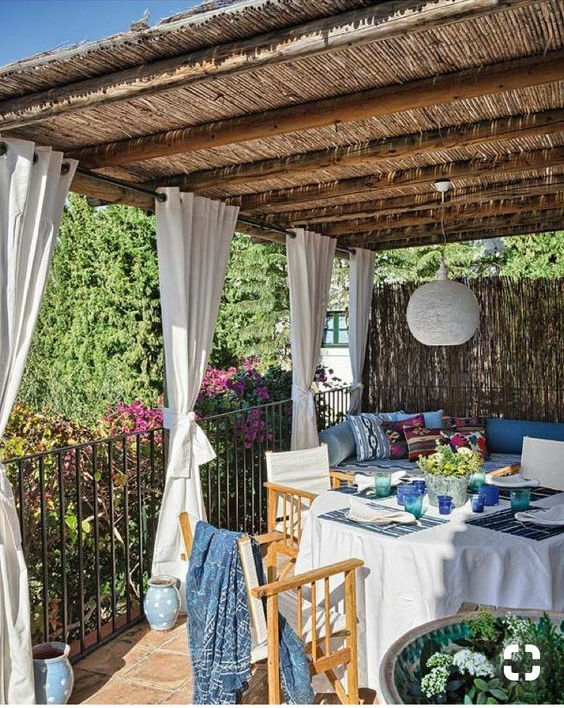 classic willow fence provide good shading for the pergolas


Rolled up bundle Closed up look customer picture
Barkless carbonized willow fences are considered to be ecologically sustainable because willow sticks can be harvested every one or two years for fencing material. It is considered to be zero carbon releasing compared to metal and plastic fencing. Excellent for screen fencing for your landscape and as overhead shading screen for your pergolas.
Willow fencing has a natural, rustic, appearance that will blend right into your home and garden. Our Classic peeled willow fence is constructed with only mature willow sticks that are thick enough to have their skin peeled, and go through the process known as high pressure steam carbonization, creating its smooth texture and transforming its color into a mahogany tone. These skinless willow sticks are woven together with black nylon coated wire, which will prevent rusting, making them last longer in the outdoors. Comes in as tall as 8' , also available 6' and 4' high.
Barless carbonized willow fences comes in a rolled form with matching black nylon coated wire. It is easy to install using the wire tie, especially around a corner or any kind of non-linear fencing. We offer a great variety of sizes to meet your fencing needs, from the short 4' height to cover your chain link fences to the 8' tall willow fences that requires tall screening.
We encourage our customers to use cedar posts and stringers to install any rolled fences. Need help on installing our classic willow fence? Click on Installing Rolled Fences.
Key Features
Classic peeled willow are rapidly renewable and ecologically sustainable, compared to metal chain link or plastic.

Classic willow fences uses peeled willow sticks and processed with high pressure carbonization to make it last longer in the outdoors.

Long-lasting, skinless willow fence can hide any unsightly views, create privacy screens, or used as a beautiful, natural looking backdrop for your flowers and plants.

Excellent fence screening and shading material.

Easy installation, simply tie it to a chain-link fence or fence posts.

We recommend putting a coat of linseed oil or outdoor sealer for extra protection.

Flex enough to install in curved or irregular site.

Providing good shading for our outdoor structure like pergolas

Call or contact us for custom sizes.
Pricing & Purchase
| | | | | |
| --- | --- | --- | --- | --- |
| Item | Description | Price | Sizes | |
| CWF-88 | Classic mahogany willow fence | $125.81 + shipping, Due to the size and weight of the fence, shipping could be high, if you are ordering more than 8 rolls please contact us for discounted freight shipping. | 8'H x 8'L, | |
| CWF-68 | Classic mahogany willow fence | $92.71 + shipping, | 6'H x 8'L | |
| CWF-48 | Classic mahogany willow fence | $61.73+ shipping, | 4'H x 8'L | |
| CWF-38 | Classic mahogany willow fence | $49.81 + shipping, | 3'H x 8'L | |
| CWF-28 | Classic mahogany willow fence | $35.85 + shipping, | 2'H x 8'L | |
| BNW-80 | Black Nylon Coated Wire Tie Up, 80 feet | $6.52 + shipping, | 100' L | |