Related Products
Up
Willow Gate
Bamboo Door
Bamboo Gate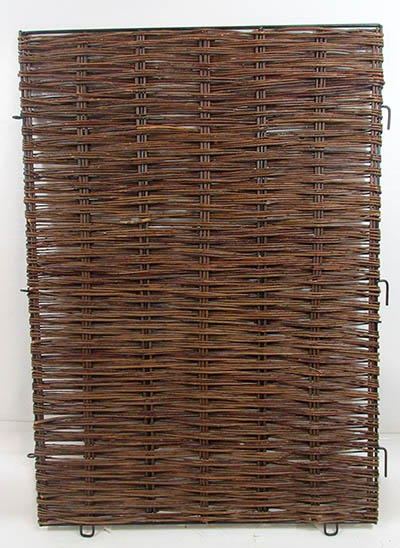 Willow Gate WG-48,Metel rod framed, 34"W x 48"H close look at metal frame and verticql metal support
Our willow gate or door is designed to go with our willow fences, framed with 3/8" metal rod, reinforce with 2 vertical metal rod in the middle to give these gate a ragid strong structure. We offer two standard gate size with 30" or 34" wide, height is 48". Welded 3 hooks allow you to hang the gate easily on the hook eye.

WG-34, Wood framed woven willow gate 38"W x 38"H
Key Features
Iron rod framed willow gate to match our full line of willow fences.

Frame with welded hooks for easy installation.

Can be hang easily to heavy hook eyes on wood post.
Pricing & Purchase
| | | | | |
| --- | --- | --- | --- | --- |
| Item | Description | Price | Sizes | |
| WG-46 | Woven Willow Hurdle Panel Gate, iron rod framed. | $84.12+ shipping | 30'W x 48"H | |
| WG-48 | Woven Willow Hurdle Panel Gate, iron rod framed. | $92.12+ shipping | 34'W x 48"H | |
| WG-33W | Wood Framed Woven Willow Hurdle Gate, | $94.24+ shipping | 38'W x 38"H | |