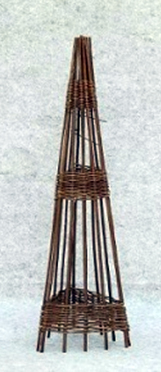 Willow Spiral Round Obelisk WSO-48 Willow Round Obelisk WRO-48 Foldable 3 sided Obelisk, WFO-60

WRO-48, Foldable 3 sided Obelisk, WFO-60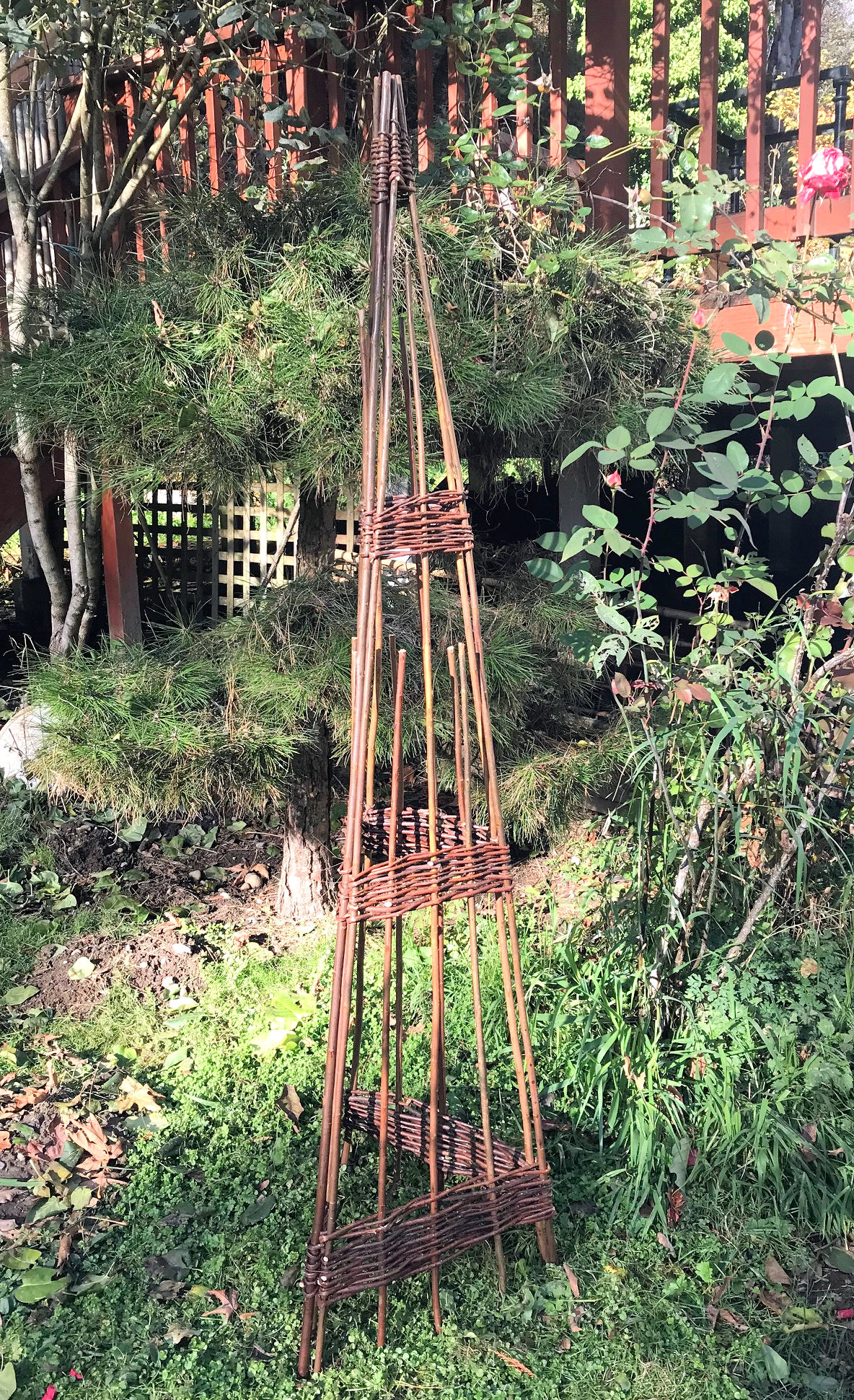 WFO-72, 6 feet tall foldable willow obelisk
Bentwood willow wigwam obelisks are a classic choice for an English-type garden. Not only do they add height to your garden, they can be used for climbing plants such as sweet peas or French beans. Alternatively, they can be planted with scented climbers and used indoors. Different heights and styles are available. (Shipping on the larger sizes are very high due to the size) If you order 3 or more please call us for discount shipping.
Our newly arrived foldable three sided wigwam obelisk can be folded easily for storage. If you do not want to pay a high shipping cost for larger size, then foldable wigwam Obelisk is a better alternative.
Key Features
Ideal for low climbing vines or flower back drop.

Choose either the classic round obelisk or our spiral design.

Great classical English garden charm.

Handcrafted with green sustainable willow material.
Pricing & Purchase
| | | | | |
| --- | --- | --- | --- | --- |
| Item | Description | Price | Sizes | |
| WRO-60 | Willow Round Obelisk | $25.21+ shipping, High shipping cost due to packaging size | 16"W x 60"H | |
| WRO-48 | Willow Round Obelisk | $22.23+ shipping | 12"W x 48"H | |
| WRO-72 | Willow Round Obelisk | $32.23+ shipping High shipping cost due to packaging size | 18"W x 72"H | |
| WSO-72 | Willow Round Spiral Obelisk | $32.47+ shipping High shipping cost due to packaging size | 18"W x 72"H | |
| WSO-60 | Willow Round Spiral Obelisk | $25.21+ shipping, High shipping cost due to packaging size | 16"W x 60"H | |
| WSO-48 | Willow Round Spiral Obelisk | $22.83+ shipping | 12"W x 48"H | |
| WSO-36 | Willow Round Spiral Obelisk | $18.23+ shipping | 12"W x 36"H | |
| WFO-48 | Willow Foldable 3 sided Obelisk | $18.32+ shipping | 14"W x 48"H | |
| WFO-60 | Willow Foldable 3 sided Obelisk | $22.17+ shipping | 14"W x 60"H | |
| WFO-72 | Willow Foldable 3 sided Obelisk | $28.22+ shipping | 14"W x 72"H | |