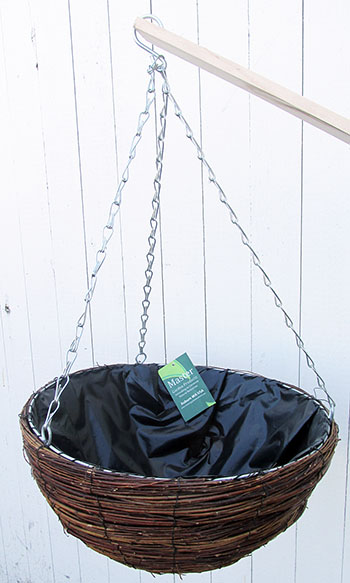 Willow taper hanging tub planters WHB-14
These willow hanging baskets are for outdoor and indoor usage and are excellent for a wide range of plants.
The round tapered hanging tub planters are suitable for hanging flowers like the fuchsia or use them as planters place on the ground. These planters are also excellent for planting orchids or any type of small plants. Package includes hanging chain, and plastic liner.
Hanging tub gardening provides more information on planting using hanging basket. We recommend that you cut a hole in the plastic liner of the basket to ensure proper drainage when planting outdoors.
Key Features
This planter will uniquely enhance and showcase your favorite flowers and plants.

Excellent for indoor and outdoor planting.

Galvanized wire frame to add strength and support to the hanging basket.

Plastic liner inserted.
Pricing & Purchase