Teak wood framed premium Big poles bamboo fence panel with colonial wood grid top design WBF-66, mahogony stain finished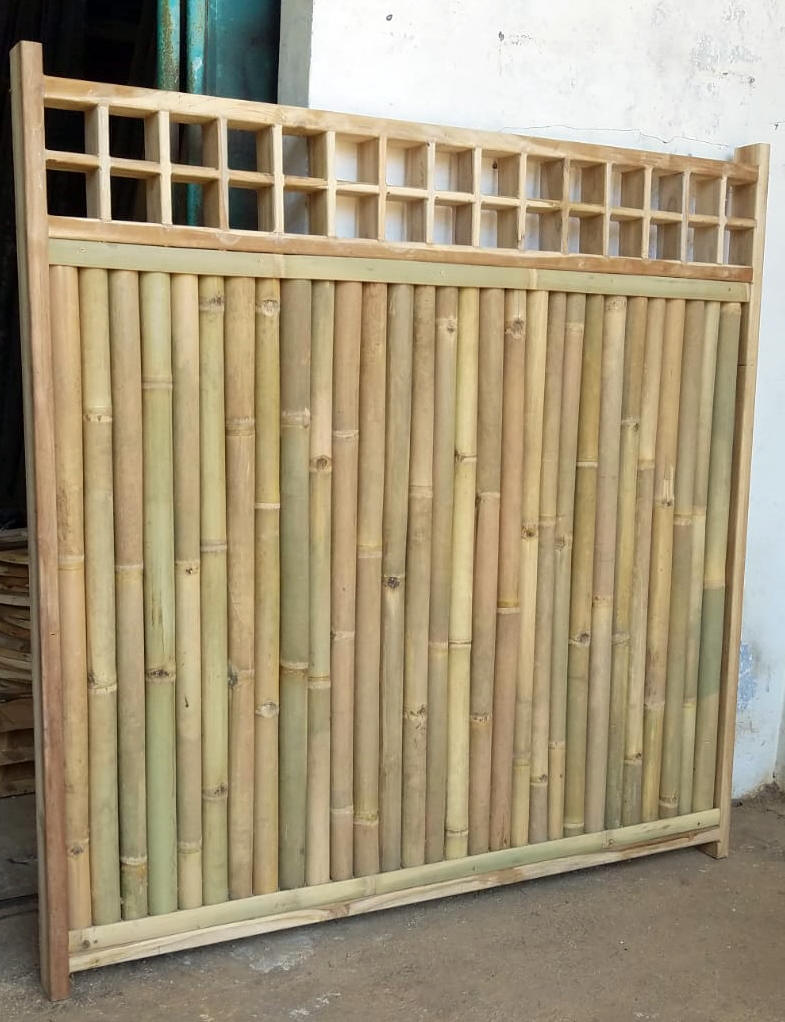 Teak wood framed premium Big poles bamboo fence panel with square wood grid top design WBS-68, plain finish
Our new line of commercial grade teak wood framed premium big pole bamboo fence panels are constructed with 3 inch mature thick wall bamboo poles. They are designd to Install easily to standard fence wood posts.
These panels are constructed with actual size 1x3.5 inches plantation teak wood frames with classic square lattice top design.. it is desined to install onto a standard size 4x4 fence wood post. The structural teak wood frame is constructed with mortise-and-tenon joints and secured with wood screws. Teak wood provide the best outdoor production for the fence for years to go. Optional middle molding are available.
Key Features
Pre-fabricated big pole bamboo fence panels with teak wood frame makes it easy to construct professional grade bamboo fencing.

Heavy mortise-and-tenon joinery are used when constructing the teak wood frame holding the bamboo panel.

Teak wood and bamboo stringers on either side to alternate panels.

All teak wood framed are finished in a dark brown color tone, all bamboos are naturally processed for extra protection.

Optional middle bamboo molding is available.
Pricing & Purchase
Item

Description

Price

Sizes

WBF-66

Big pole bamboo fencing panel with teak wood colonial wood grid top

$397.47 + shipping* please contact us or call for discounted freight for 3 panels & over

6'H x 6'W

WBS-68

Big pole bamboo fencing panel with square lattice top

$397.47 + shipping*
please contact us or call for discounted freight for 3 panels & over

6'H x 6'W

coming soon