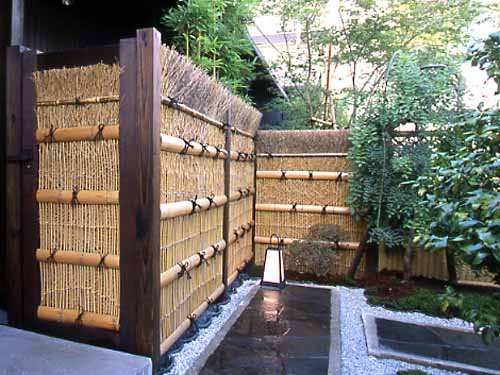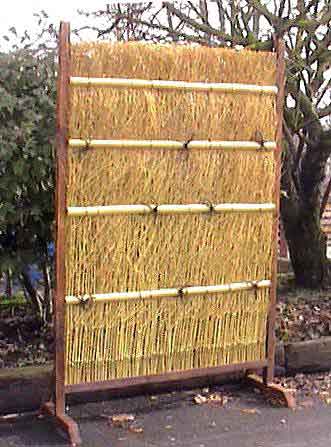 6'x 6'Bamboo branch fence panel in Japanese garden on standard optional footing FBS-2
(custom project shown)
Takeho-gaki is a fence constructed from bamboo branches commonly used in Japanese Gardens. Bamboo branches originated from the twigs and tips of the bamboo, they are also fine looking and long lasting as well. We compact thick layers of bamboo branches to make the fence panel solid for privacy. These tiny bamboo twigs are very long lasting in the outdoors while the estimate life span of these fences are about 20 years.
Our bamboo branch fence panels are framed with cedar wood. The cedar wood is torched finished displaying a dark antique wood tone, providing protection from outdoor elements as well as providing old world charm. The fence panel comes with optional cedar wood footing for easy fence installation.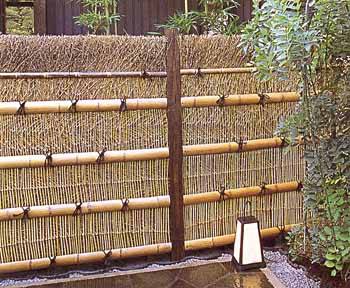 6' x 6'Bamboo branch bamboo (optional custom set up shown)
Key Features
Made of bamboo twig and tips, these fences will last almost 20 years, we consider them one of the longest lasting fence.
The bamboo branch are well compact give you privacy and the natural look of the bamboo

Cedar wood framed for easy installation and the old tradition Japanese torch finish on the cedar wood provide the extra protection and the antique dark wood color tone.
Pricing & Purchase
| | | | | |
| --- | --- | --- | --- | --- |
| Item | Description | Price | Sizes | |
| BBF-72 | Wood framed bamboo branch fence panel | $154.12+ shipping, please contact us or call for discounted freight for 3 panels & over* | 48'W x 72"H | out of stock |
| BBF-66 | Wood framed bamboo branch fence panel | $212.43+ shipping, please contact us or call for discounted freight for 3 panels & over* | 72'W x 72"H | out of stock |
| BFR-48 | Bamboo twig roof top for BBF fence panels. | $49.52 + shipping, | 6"H x 48"L | |
| FPS-2 | Cedar wood leg support set for fence panel. 2 in a set | $19.84 + shipping* | 14"L x 8"H | |