BPS-8, Foldable palapa umbrella, Bamboo table & chair, Folded bamboo palapa umbrella with table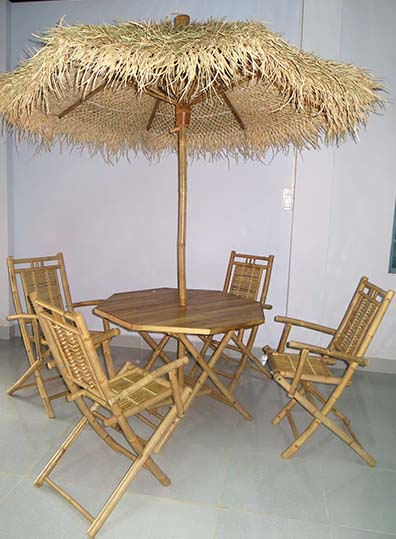 BPS-8A, Palapa set with arm chair Palapa umbrella
Our solid bamboo table and chair with palapa umbrella set are made with solid Tam Vong solid bamboo. Perfect for outdoor dining, in beach lounges, etc., or in your home. Provide an instant tropical tiki theme to your location.
All components are foldable for easy storage when not in use.
Key Benefits
Made with premium solid bamboo poles, treated and finished with natural oil.

The bamboo tables are made of natural solid bamboo poles, finished with a unique natural color. Oil finished for extra protection.

Foldable bamboo chairs are traditionally designed with an arc back support for comfort.

Bamboo table set is ideal for outdoor or indoor uses.
Pricing & Purchase
Item

Description

Price

Sizes

BPS-8

Bamboo table and chair set with Palapa Umbralla

$488.51+ shipping

Chair 20'W x 28"H
Table 36'W x30"H
Umbrella 82"D x 94"H

BPS-8A

Bamboo table and arm chair set with palapa umbralla

$548.34+ shipping

Chair 20'W x 36"H
Table 36'W x30"H
Umbrella 82"D x 94"H