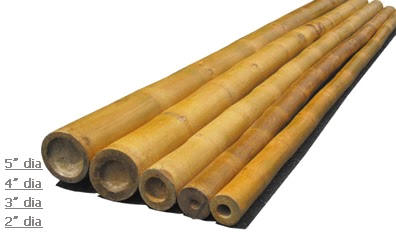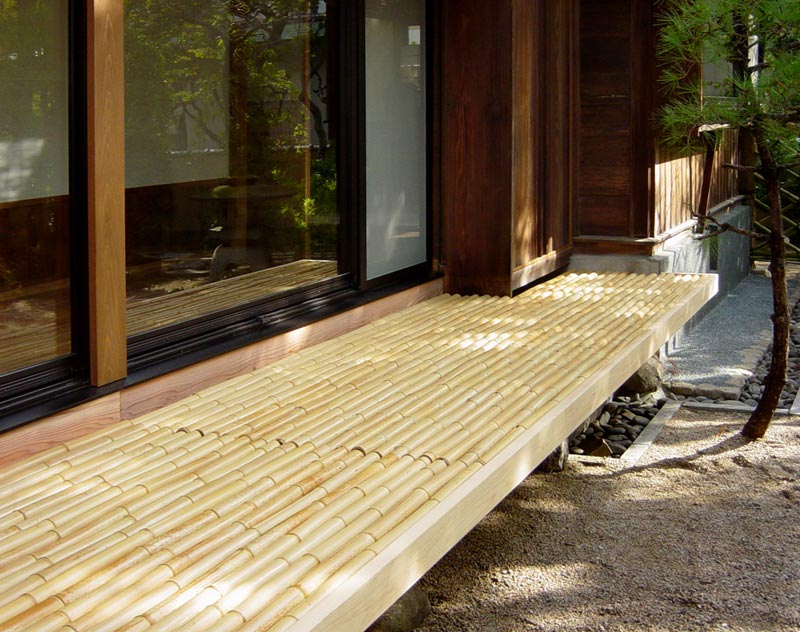 Moso Bamboo poles of all sizes Bamboo can be used in many ways
Bamboo poles are used in construction of various indoor and outdoor projects that wants that natural rustic look of bamboo. Bamboo poles are one of the most common material used in Asian gardens and indoor decorative construction. Bamboo is certified to be an environmentally friendly building material.
Bamboo will crack easily as time go by, but it does not affect the strength of the pole as long as it does not crack completely open . Bamboo have high-density strength — in some ways stronger than steel, concrete and spruce — due to its high content of silicates, the same glass-like substance found in sand.
We have many sizes of bamboo poles for you to choose from. For smaller diameter bamboo stakes, please go to our bamboo stake page. Our larger Moso bamboo poles, comes in 2" to 6" in diameter. Available from 8-12 feet long. Our 1 inch tonkin bamboo poles are choice bamboo fro fishing pole due to its strength.
Bamboo poles are an ecologically sustainable building material because it is rapidly renewable, and the green masses of the bamboo plantation helps to absorb carbon dioxide from the atmosphere to reduce global warming.

Customers bamboo decoration at home
Key Benefits:
Made with environmentally sustainable building material. Great for building and interior design projects.

Bamboo costs less when compared to other types of wood or metal.

Bamboo poles can be used as posts, support, or for decorating purposes.

Our bamboo poles are cleaned and processed for longevity and strength.

We sell only thick wall Moso bamboo and Tonkin bamboo poles.
Pricing & Purchase
Item

Description

Price Price Pick your Quantity Package discount after add to cart

Size

BP-10

Tonkin Bamboo Poles, 1" diameter, 8' long

single pc/ $2.50 + shipping
set of 5/ $12.30 + shipping
set of 10/ $23.60 + shipping

1" x 8'L

BP-02

Moso Bamboo Poles, 2" diameter, 8' long

single pc/ $9.85 + shipping
set of 5/ $47.28 + shipping
set of 10/ $94.06 + shipping

2" x 8'L

BP-02-12

Moso Bamboo Poles, 2" diameter, 12' long

$14.85 + shipping

2" x 12'L truck shipping only

please call

BP-03

Moso Bamboo Poles, 3" diameter, 8' long

$15.85 + shipping

3" x 8'L

BP-03-12

Moso Bamboo Poles, 3" diameter, 12' long

$23.85 + shipping

3" x 12'L truck shipping only

please call

BP-04

Moso Bamboo Poles, 4" diameter, 8' long

$24.45 + shipping

4" x 8'L

BP-05

Moso Bamboo Poles, 5" diameter, 8' long

$29.45 + shipping

5" x 8'L

BP-06

Moso Bamboo Poles, 6" diameter, 8' long

$36.45 + shipping

6" x 8'L