Sanded Finished Bamboo Rod Natural Bamboo Rod
We use hand picked natural solid bamboo to make our bamboo rod, They are stronger than the hardwood, they are more flex, they are ecology sustainable products. They are far more superior in quality than hardwood plastic and other composite material. Use them for your to replace wood rod where fallibility and strength is required. Best of all the bamboo rod give you a natural feel and look to it.
We use the almost solid thick walled Tam Vong bamboo to make our bamboo rod, you can pick the original natural bamboo form or the sanded finished rod. The natural form will still have a waxy outer skin with pronounced nodes where as the Sanded & Finished Solid Bamboo Rod is lightly sanded with a polyurethane finish and smooth nodes. Come in 1". 1.25" diameter and standard, 6' long. It is a natural product, so the color varies in tans and honey.
Contact us for custom sizes quote for a larger quantity
.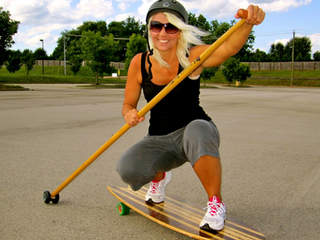 Making Land Paddle
Key Benefits
Green Ecology sustainable bamboo rod, replace the regular hardwood, plastic and vinyl rod

Almost sold bamboo rod with a small core in the middle.

Stronger than most hardwood/

Retain the natural look and feel of bamboo.

Use them to replace wood, plastic and other composite rod.

Different sizes for your projects..
Pricing & Purchase
| | | | | |
| --- | --- | --- | --- | --- |
| Item | Description | Price | Size | |
| BVR-1 | Natural Bamboo Rod | 9.82 +shipping | 1"D x 72"L | |
| BRD-125 | Natural Bamboo Rod | $11.34 +shipping | 1 1/4"D x 72"L | |
| BVR-1S | Sanded Bamboo Rod | 12.82 +shipping | 1"D x 72"L | |
| BRD-125S | Sanded Bamboo Rod | $13.34 +shipping | 1 1/4"D x 72"L | |