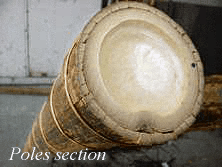 BSF-28 BSF-29
Our Bamboo sleeve fences, or in Japanese, Sode-gaki, is one of the most well known and eye-catching bamboo fences in Japanese gardens.
Sleeve bamboo fences are single panel fences often used as the focal point in a garden or to conceal areas that are less than desirable. They are usually placed at 90 degrees to the edge of a building, or by the corner of a wall to soften a sharp turn. These fences are handcrafted with natural bamboo, copper wire, and traditional Japanese knot ties. Finished with bamboo oil for outdoor and indoor protection. Dimensions for all bamboo sleeve fences are 68"H x 30"W.
The diameter of these fences are 3.5", the whole bamboo is wrapped according to a traditional Japanese technique with bamboo slats on the outside with copper wire.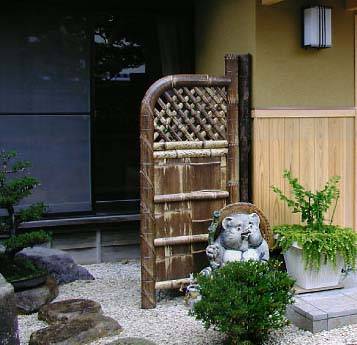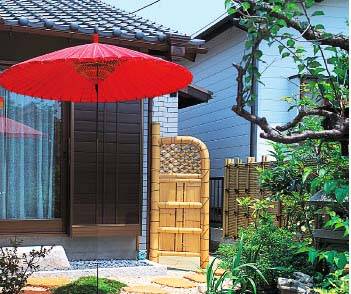 Black Bamboo Sleeve Fence BSF-24B Regular BSF-28 Bamboo Sleeve Fence
Key Features
Generous sizes to choose from.

Single panel fences used as a focus point or to conceal.

Choice of black bamboo or regular bamboo for our sleeve fences.
Pricing & Purchase
| | | | | |
| --- | --- | --- | --- | --- |
| Item | Description | Price | Sizes | |
| BSF-28 | Bamboo Sleeve Fences, Sode-gaki | $148.12+ shipping | 28'W x 68"H | Out of stock |
| BSF-24B | Black Bamboo Sleeve Fences, Sode-gaki | $148.12+ shipping | 24'W x 68"H | Out of stock |
| BSF-29 | Bamboo Sleeve Fences with hole, Sode-gaki | $158.25+ shipping | 28'W x 68"H | Out of stock |