Tall square planter MTP-26 MTP-28 popular as divider & planter wall
The unique design of our white cedar wood pedestal tall planter makes it excellent as a planter wall divider for the sidewalk or can be used in a restaurant, or at any type of hospitality and residential premises. The height of the planter is at eye level, the top bottom is 16" from the rim of the planter, meaning you only have to fill the growing medium up to 14" eliminating the unnecessary weight and cost of excess compost. However, the planter has two height settings for the bottom installation, that allows you to pre-set the depth of the planter for your planting needs.
Constructed with northern white cedar wood, our planters are durable and easy to set up. Tongue and groove wall panels are framed using mortise and tenon joinery. Heavy furniture grade connecting bolts and nuts secures the four wall panels together, the planter is shipped disassembled and assembly is easy using just a screw driver.
Comes in many sizes to suit your needs, from 40" to 72" long, square or rectangular design. We have an L-shape Corner Pedestal Planter you may like to take a look at too. Our log wood Log Cabin Pedestal Planter Wall is our newer line of wall planters that adds a unique feature to your business, outdoor cafe, or home and garden.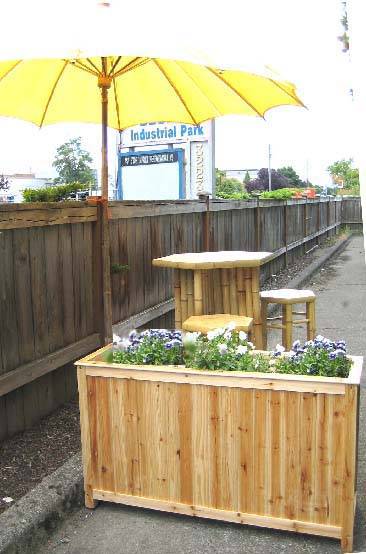 MPP-48, with outdoor bistro table & stool 60" x 14"W x 30"H
Key Features
Horticulture therapy friendly.

Excellent as a sidewalk and indoor seating floral wall divider in a hotel, resort, restaurant, theme park, etc.

Pedestal planters are very popular in commercial hospitality establishments as a divider or wall planter. You can use them to divide or screen out different seating or serving areas according to your design layout.

Tongue and groove construction gives the planter a finished look and prevents unsightly leaking of dirt.

The pedestal tall planter boxes are 28" and 30" tall, at eye level of your favorite plants. Use them as a wall planter to separate areas or locations.

False bottom design to eliminate the unnecessary cost and labor of filling in an excessive amount of growing medium in comparison to regular tall planters.

Elegant round edges around the top and bottom cap.

Mortise and tenon joinery on the wood frame. Connecting bolts and nuts securing all four wall panels together.

Easy assembly with simple tools.
Pricing & Purchase
| | | | | |
| --- | --- | --- | --- | --- |
| Item | Description | Price | Size | |
| MTP-26 | Villa Square Pedestal Tall Planter | $72.85 + shipping | 16"W x 16"W x 28"H | out of stock |
| MTP-28 | Villa Rectangle Pedestal Tall Planter | $116.34 + shipping | 16"W x 40"L x 28"H | out of stock |
| MTP-48 | Villa Rectangle Pedestal Tall Planter | $128.72 + shipping | 16"W x 48"L x 28"H | out of stock |
| MTP-60 | Villa Rectangle Pedestal Tall Planter | $152.41 + shipping | 14"W x 60"L x 30"H | out of stock |
| MTP-72 | Villa Rectangle Pedestal Tall Planter | $168.41 + shipping | 15"W x 72"L x 30"H | out of stock |