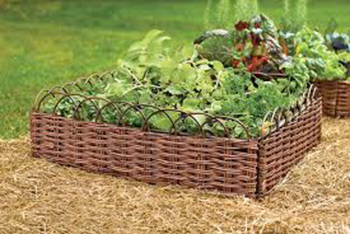 WRB-44R, Arc top willow raised bed, 8" high
Bring some old world charm home to your garden. Willow is seen much around Europe and are commonly used in English gardens. These magnificent pieces will inspire any gardener. Comes in either 4' x 4', 4' x 6, 4' x 8' section.
Our willow panel with arch top raised bed are standard 8" high wthic is standard garden growing need.. Liner installation is strongly recommended for this product. Our raised bed kits come complete with all willow panels, cedar wood stakes and wire tie necessory for you to set up your raised bed in minutes.
Click here for our standard Raised bed installation
Key Features
Easy set up using wire tie secure the panel to the cedar wood stakes provided

Old world charm with the ease of growing just about anything in your garden

These beautiful willow hurdles with decorative arct top are woven by hand to form a traditional European design.

Can be treated with 50% boiled linseed oil and 50% turpentine.

Complete set includes: willow panels, 20" tall cedar stakes, and wire tie.
Pricing & Purchase
| | | | | |
| --- | --- | --- | --- | --- |
| Item | Description | Price | Sizes | |
| WRB-44R | Woven arch top willow raised bed kit includes: 4 pieces 48"L x 8"H willow panels, 4 pieces 20" cedar stakes, and wire tie. | $59.32 + shipping | 48"W x 48"L x 8"H | |
| WRB-48R | Woven arch top willow raised bed kit includes: 6 pieces 48"L x 8"H willow panels, 6 pieces 20" cedar stakes, and wire tie. | $118.56 + shipping | 48"W x 96"L x 8"H | |
| WRB-46R | Woven arch top willow raised bed kit includes: 2 pieces 48"L x 8"H willow panels, 2 pieces 72"L x 8"H willow panels, 4 pieces 20" cedar stakes, and wire tie. | $88.27 + shipping | 48"W x 72"L x 8"H | |