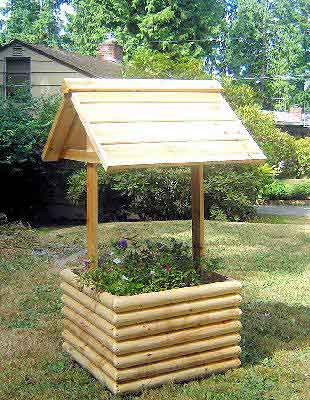 MWWS-24L Wishing Well /log planter MWWW-24, with custom roof side plate
Our wishing wells can be used as a planter and adds a charming, decorative touch to your home and garden. Comes in two pre-assembled sections, constructed with a roof and a planter box, in which they can be easily put together with screws.
We give you the option to add drainage holes on your wine barrel planters. If you plan to use the wine barrel wishing well for planting, then drainage holes are needed so excess water may drain out without drowning and killing the plants. Of course, you may also use these barrel planters for other purposes without the drain holes at the bottoms.
Choice of bases include: Square, octagon, log, or half wine barrel planters.
Key Benefits:
Cedar wood construction will last for many years.

We use our villa square planter , octagon planter, log planter, and oak wood half wine barrel planters, as our planter base box.

Use our water tight oak wood half wine barrel to set up an unique water garden wishing well, or regular wine barrel for regular usage.

Our planters and roof tops are pre-assembled in our factory for integrity and quality. Minimum assembly required for roof installation.

Both octagon and square planters are 24"W x 18"H. Half wine barrel planters are 17"H x 26" Diameter. Overall height of all wishing wells are 52".
Pricing & Purchase