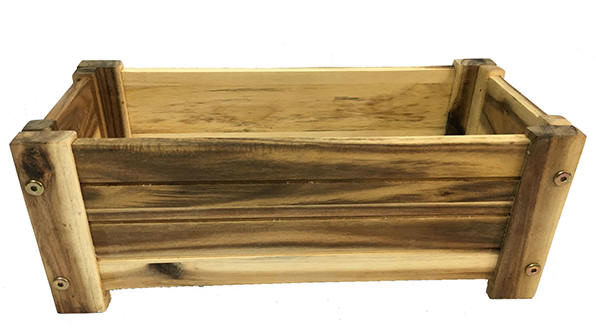 DP-19, Acacia Wood Deck Rail Planter on standard 1x6 handrail top strong sun light
Decks are a commonly used outdoor living space. These hand rail mounted Acacia wood planters will surely enhance your deck or patio with its natural, vibrant cedar wood color, and simple design.
Our Acacia wood deck planters can rest on top standard sized 1" x 6" deck rails and be secured with screws. It can also serve as a space saver. You may secure the planter onto the hand rail top using the wood screws.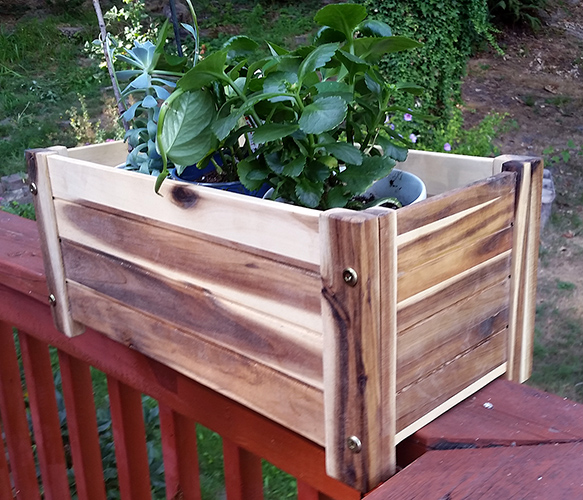 On the deck
These deck planters are also available in bamboo material, click Bamboo Deck Planter for more information
Key features
Comes in 19" long and 9" wide, sitting on 5 3/4" which is the actual standard width of the 1" x 6" rail top.

Deck planters are finished with Ting oil which gives you the most stable natural outdoor protection you can get.

Rot resistant Acacia wood construction makes it excellent for outdoor and indoor container gardening.

Our planters are fully assembled in our factory, no assembly is required.

Can be stained with half oil/half latex outdoor color stain.
Pricing & Purchase