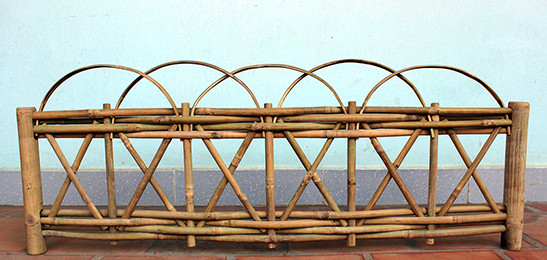 PE-45, bamboo edging panel. 48" long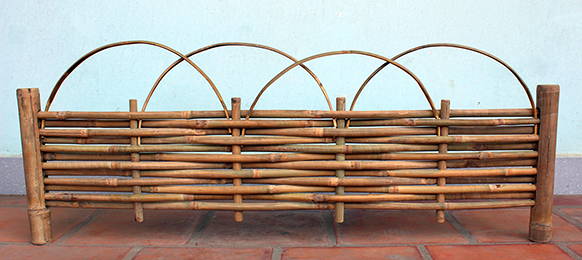 PE-48, bamboo edging panel. 48" long

PE-47, bamboo edging panel. 48" long

PE-42, bamboo edging panel. 48" long
This bamboo edging panel combines the design of the East and West, perfect as a divider or border.
Standard length for all border edging panels are 48" long and 15" high. All bamboo border edging panels come with 2 pcs of 6" legs inserts or easy installation.
Extra piece of PE-48 and PE-45 arc top will be included for multiple pieces installation.
Key Features
Elegantly designed bamboo edging panel use to define garden borders.

Easy set up with stick posts included.

Different designs and sizes to choose from.

Made with thick wall Tomvong bamboo from sustanable resources.
Pricing & Purchase
Item

Description

Price

Sizes

PE-47

Woven Bamboo Edging Panel

single pc/ $22.75 + shipping
set of 2/ $44.13 + shipping
set of 5/ $105.88 + shipping

48"W x 14"H

PE-48

Woven Bamboo Edging Panel with loop topping.

single pc/ $22.75 + shipping
set of 2/ $44.13 + shipping
set of 5/ $105.88 + shipping

48"W x 14"H

PE-45

Woven Bamboo Edging Panel with loop topping.

single pc/ $22.75 + shipping
set of 2/ $44.13 + shipping
set of 5/ $105.88 + shipping

48"W x 14"H

PE-42

Trellis Bamboo Edging Panel.

single pc/ $22.75 + shipping
set of 2/ $44.13 + shipping
set of 5/ $105.88 + shipping

48"W x 14"H