Bamboo garbage can enclosure can be used indoors or outdoors in residential or any commercial facilities, they are used primary to conceal unsightly trash cans or outdoor central air contitioner condenser. They also can be used as divider to provide privacy to enclose seating area. They can be folded and stored away easily when not in use.
They are handcrafted with long lasting solid iron bamboo bamboo. Panel dimension for the smaller BSC-18 is 18" W x 54" H and the panel size for BSC-884, BSC-684 is 24-inches width by 2-inches depth by 48-inches height. You can choose 4 panels to closeup an u shape area up to 48" wide or 3 panels for smaller area of 24" wide.Optional top cover is available to prevent animal from getting to the rufuse.
We also carry a wonderful line of Black Bamboo Screen Divider.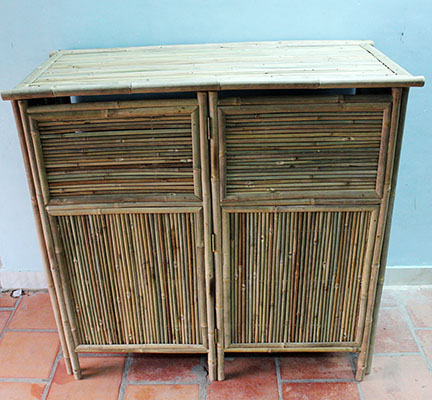 Bamboo Trash Can Enclosure BSC-884 BSC-884T

BSC-884T with top cover, show from inside out
Key Features
Natural iron bamboo panel indoor outdoor screen

Screen conceals air conditioners, garbage cans and trash can..

Divider for seating area outdoor indoor.

Galvanized hinges.

Single panel size 23-inches width by 2-inches depth by 44-inches height

Foldable and stores away easily.

Optional top cover.
Pricing & Purchase