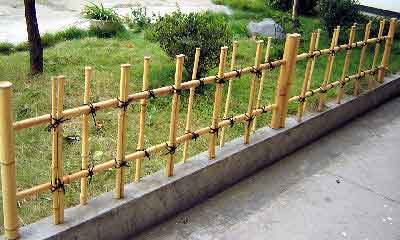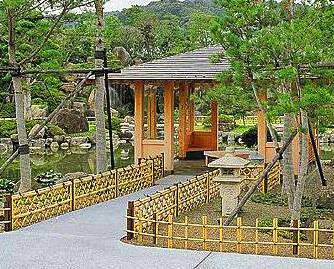 SLF-24, 24"H Yotsume-gaki pedestrian fence SLF-24 on the right and BLF-24 w/ lattice on left.
Commonly used in Japanese gardens, a typical "Sukashi-gaki" fence are low fences created with an old bamboo craft technique.
Kinkakuji-gaki is a very simple fence formed only with vertical and horizontal arrangements of long-jointed bamboo mounting. The beauty of these fences lies in its simplicity of refine textures and patterns.
Yotsume-gaki, on the other hand, is a simple pedestrian rail and pathway fence with or without a pattern of lattice built in. They are as practical as the pedestrian guide fence, bringing the natural beauty of bamboo to soften any kind of outdoor setting. In the traditional Japanese garden, Yotsume-gaki are usually used as dividers, separating the inner and outer areas of a garden. You may also plant small shrubs along the base of the fence or have climbing plants trained to trail along the Yotsume-gaki as a suggested design.
Take-gaki, is a traditional Japanese bamboo short fence with a diamond pattern lattice built in, this is a beautiful fence to direct pedestrian traffic in the front and backyard.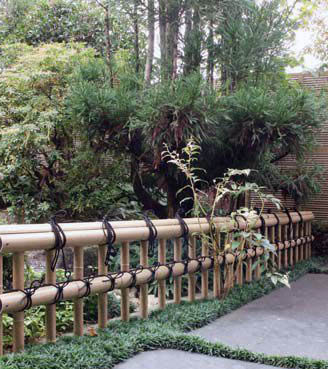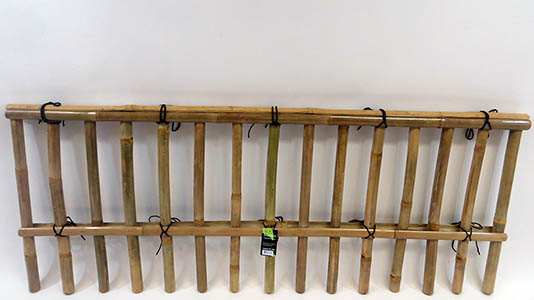 SGF-24 Kinkakuji-gaki with wood posts. SGF-24 Kinkakuji-gaki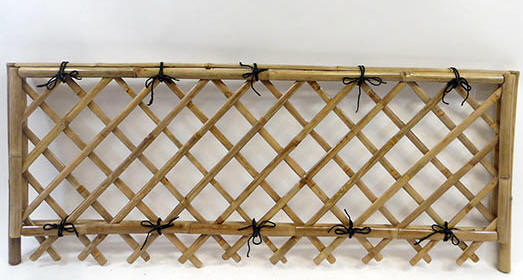 BLF -24 Take-gaki in the front yard BLF-24 Take-gaki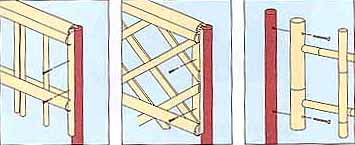 Standard installation for low fences on wood posts (not included) SLF-36 36"H x 60"L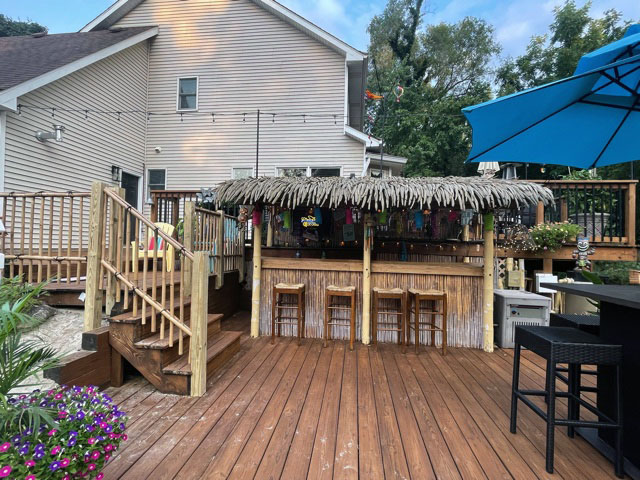 SLF-36 used as decking railing from one of customer photo,

SLF-36 used as decking railing from one of customer photo,
Key Features
All heavy 1.5" thick wall Calcutta bamboo poles to last longer in outdoor.

Finished with natural bamboo oil coating.
Pricing & Purchase
| | | | | |
| --- | --- | --- | --- | --- |
| Item | Description | Price | Size | Pick your quantity bundle after add to cart |
| SGF-12 | Kinkakuji-gaki bamboo pedestrian fence | $42.55 + shipping | 12"H x 60"L | |
| SGF-24 | Kinkakuji-gaki bamboo pedestrian fence | $49.15 + shipping | 24"H x 60"L | |
| SGF-36 | Kinkakuji-gaki bamboo pedestrian fence | $58.27 + shipping (high shipping due to package dimension) call for shipping cost if you order bulk . | 36"H x 60"L | |
| BLF-24 | Take-gaki bamboo pedestrian fence with lattice | $54.25 + shipping | 24"H x 60"L | |
| SLF-24 | Yotsume-gaki bamboo pedestrian fence 2'H x 5'L | $45.25 + shipping, (high shipping due to package dimension) call for shipping cost if you order bulk . | 24"H x 60"L | |
| SLF-36 | Yotsume-gaki bamboo pedestrian fence 3'H x 5'L | $58.41 + shipping, (high shipping due to package dimension) call for shipping cost if you order bulk . | 36"H x 60"L | |
| SLF-48 | Yotsume-gaki bamboo pedestrian fence 4'H x 5'L | $77.15 + shipping, (high shipping due to package dimension) call for shipping cost if you order bulk . | 48"H x 60"L | |
| GWS-20 | Garden Wood Stakes | set of 4 / $3.50 + shipping | 20"H x 1.5"D | |
| GWS-40 | Garden Wood Stakes | set of 4 / $6.00 + shipping | 40"H x 1.5"D | |