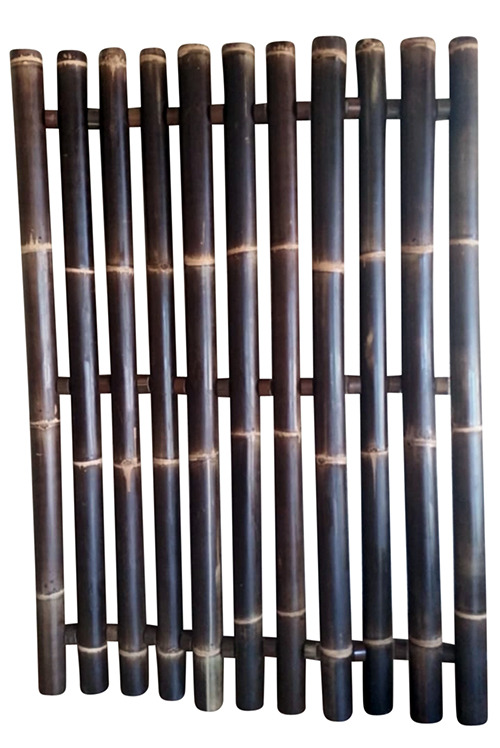 NBF-48BET, 48"H Timber black bamboo picket fence
Old-fashioned bamboo picket fences adds a traditional touch to a home, as well as to provide barrier and security. The double wire between the poles are covered with sections of bamboo and the gaps between poles allows for an open picket fence look. The spaced pole design of the picket fence allows a homeowner to see the property while also securing it.
Our timber bamboo picket fence gives you another option to one of the most popular fence styles. Big poles timber bamboo fence diameter range from 2.5-4 inches. We use black Java Bamboo and yellow Guadua Bamboo

NBF-48ET, 48"H x 60"L
Key Features
Country style picket fence made with bamboo poles.

Built with 2.5"-3.5" regular and black timber bamboo poles.

NO assembly required.

Over all 24", 36", 48" high and all 60" long.

Easy set up using galvanized wire or screw to a post.
Pricing & Purchase
| | | | | |
| --- | --- | --- | --- | --- |
| Item | Description | Price | Sizes | Pick your quantity bundle after add to cart |
| NBF-36ET | Bamboo picket fence rolled Fence | $43.15 + shipping, | 4'L x 3'H | coming soon |
| NBF-48ET | Bamboo picket fence rolled Fence | $58.33 + shipping, | 4'L x 4'H | |
| NBF-36BET | Black Timber Bamboo picket fence rolled Fence | $43.15 + shipping, | 4'L x 3'H | coming soon |
| NBF-48BET | Black Timber Bamboo picket fence rolled Fence | $58.33 + shipping, | 4'L x 4'H | |
| NBF-72BET | Black Timber Bamboo picket fence rolled Fence | $78.41 + shipping, | 4'L x 6'H | |