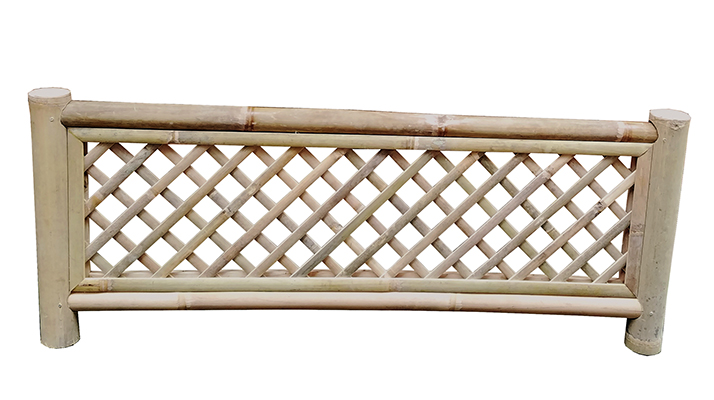 Japanese trellis fence fence for security and pedestrian fence Teradogaki TF-24
Japanese trellis fence panel Teradogaki is popular in Japan as an pediestrian fence. It is structure designed to restrict or prevent movement across a boundary, or use it to divert foot traffic for crowd control at sporting events, concerts, fairs, or carnivals. UV protected, easy to install & remove, and highly visible. Average bamboo posts are 3-4 inches diameter, trellis opening is about 2.5".
Japanese bamboo trellis fence bring natural charm to a high traffice site, ideal for Theme Park, homes and other location. Avalable in regular timber yellow and timber black bamboo.Optional footing is available for self standing setup.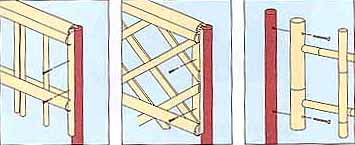 Standard rail fence set up
Key Benefits
Mature Jave Black bamboo and Guadua bamboo poles are stronger than most other bamboos and are structurally stronger than wood logs.

Indoor and outdoor pedestrian traffic control.

2" opening trellis

Bamboo post and the rail fence panels are pre-assembled and shipped out as a unit.

Bamboo poles used in our fences are cleaned and processed with a coat of natural bamboo oil for protection.

Optional leg support for self standing.

Pair of optional foot for self standing setup.
Pricing & Purchase
| | | | | |
| --- | --- | --- | --- | --- |
| Item | Description | Price | Sizes | Pick your self standing leg option after add to cart |
| TF-24 | Teradogaki Bamboo Trellis Fence Panel | $42.31 + shipping | 60"L x 24"H | coming soon |
| TF-36 | Teradogaki Bamboo Trellis Fence Panel | $58.31 + shipping | 60"L x 24"H | coming soon |
| TF-24B | Teradogaki Black Bamboo Trellis Fence Panel | $42.31 + shipping | 60"L x 24"H | coming soon |
| TF-36B | Teradogaki Black Bamboo Trellis Fence Panel | $58.31 + shipping | 60"L x 24"H | coming soon |
| TF-14L | Teradogaki Bamboo Trellis Fence Panel Footing for self standing setup. | $9.46/ pair + shipping | 14"L x 3"H | coming soon |
| TF-14BL | Teradogaki Black Bamboo Trellis Fence Panel Footing for self standing setup. | $9.46/ pair + shipping | 14"L x 3"H | coming soon |