Related Products
Up
Board on Board Fence
Misugaki Privacy Fence
Bamboo Shadowbox Fence
Lattice Top Stockade Fence
Diamond Top Basket Weave Fence
Bamboo Basket Weave Fence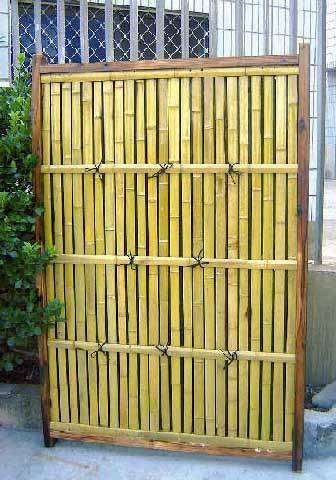 Bamboo Shadow Box Fence
Our pre-built bamboo shadowbox board on board fence panel is popular for it's dual sided and neighbor friendly fence style that'll be aesthetically pleasing to both you and your neighbor.
Bamboo shadowbox fence is a semi-privacy fence. Some wind and light is allowed to pass through the spaces between the bamboo boards or planks so that the gaps are able to break the wind up into smaller breezes creating effective protection in large open areas from stronger wind gusts.
Mature thick bamboo planks are framed in 2x4 cedar wood that are torch carbonize finished for outdoor protection, while the dual wall construction provides solid protection for your home and garden.
Key Features
Ageless classic shadow box board on board fence panel design is durable.

Constructed with machined bamboo boards or planks, creates a semi-privacy bamboo fence.

Dual sided bamboo planks constructed with cedar stringers in between the two poles.

The structural wooden frames are constructed with mortise-and-tenon joinery and secured with wood screws for strength and durability.

Pre-built fence panel with cedar frame and naturally preserved 1.5" wide bamboo planks, machined to the precise width to create this classic shadow box style of bamboo fencing.

Cedar wood frames are flame torch treated to provide extra outdoor protection, transforming the color into an antique dark brown tone. No chemicals are used.
Pricing & Purchase
| | | | | |
| --- | --- | --- | --- | --- |
| Item | Description | Price | Size | |
| CPF-46 | Bamboo Shadowbox Fence Panel with 18" post footing | $194.51 + shipping please contact us or call for discounted freight for 3 panels & over | 72"H x 48"W | |
| CPF-66 | Bamboo Shadowbox Fence Panel, with extra 18" post footing, | $253.51+ shipping please contact us or call for discounted freight for 3 panels & over | 72"H x 72"W | |
| CPF-46S | Bamboo Shadowbox Fence Panel, with extra 18" post footing, , single side finished. | $162.31 + shipping please contact us or call for discounted freight for 3 panels & over | 72"H x 48"W | |
| CPF-66S | Bamboo Shadowbox Fence Panel, with extra 18" post footing, , single side finished. | $218.16 + shipping please contact us or call for discounted freight for 3 panels & over | 72"H x 72"W | |