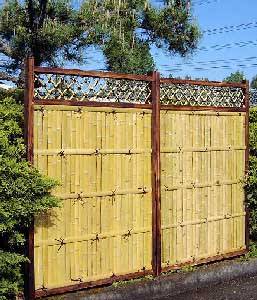 Two panels Bamboo privacy fence LPF-46 shown with Bamboo Branch Fence at far end
This solidly built lattice top stockade style bamboo fence is one of our newest addition to our line of privacy fencing. Exclusively designed and built by our own facility, the dual sided heavy bamboo planks enables you to showoff these fences on either side. The wood frames are constructed with mortise and tenon joinery. These are truly neighbor friendly fences yet, gives you total privacy at the same time.
Stockade bamboo fence panels with lattice top is 6' tall and the lattice top panel is 9" high. The width comes in two sizes, 4' or 6', the 6' wide panel comes with an extra 18" post footing for concrete installation. You can always adjust the height of the fence by lifting it a few inches during installation.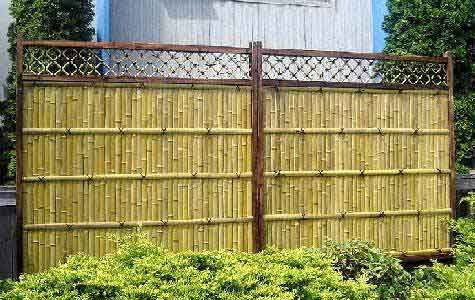 LPF-66, bamboo stockade fence with lattice top 6'x6' with footing buried into ground
Key Features
Lattice top stockade panel design puts a touch of elegance to this privacy fence panel.

Constructed with machined bamboo planks. Solid and durable bamboo privacy fencing.

Dual sided stockade style fencing makes a great noise barrier.

Dual sided bamboo planks constructed with cedar stringers in between the two poles.

The structural wooden frames are constructed with mortise-and-tenon joinery and secured with wood screws for strength and durability.

4' wide panel comes with a pair of cedar wood footing for easy set up. Footing can be bolted or screwed into the floor for added security. The 6' x 6' panels have an extra 18" footing for inserting into the ground for permanent installation.

Cedar wood frames are flame torch treated to provide extra outdoor protection, transforming the color into an antique dark brown tone. No chemicals are used.

Panels are fully assembled for easy installation.
Pricing & Purchase
| | | | | |
| --- | --- | --- | --- | --- |
| Item | Description | Price | Size | |
| LPF-46 | Lattice Top Bamboo Stockade Fence Panel | $194.51 + shipping please contact us or call for discounted freight for 3 panels & over | 72"H x 48"W | |
| LPF-66 | Lattice Top Bamboo Stockade Fence Panel, with extra 18" post footing | $274.51 + shipping please contact us or call for discounted freight for 3 panels & over | 72"H x 72"W | |
| BFR-72 | Bamboo twig roof top for LPF-66 fence panels 6' wide | $65.18 + shipping, | 6'W x 6"H | |
| BFR-48 | Bamboo twig roof top for LPF-46 fence panels 4' wide | $49.52 + shipping, | 4'W x 6"H | |