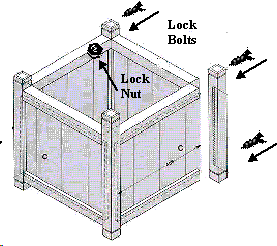 MEWL-30 Estate Raised Planter
The estate series white cedar wood raised planter with ball finial is one of the most popular planters in our product line. Designed to raise the display planter to eye level, their height also provides an extra dimension to any home garden.
Square dados are cut into the frames, and the tongue and groove wall panels are inserted into the "U" channel to form a neat and strong structure. The joinery of this planter is a combination of mortise and tenon locking bolts and nuts for added support for heavy loads, and comes with an exterior linseed oil finish for protection against the outdoors. You will be amazed at how easily our raised planters can make your transform your yard in one simple assembly.
This planter box is also horticulture friendly, with its raised stands, this planter can allow people with limited physical abilities to garden in a less stressful manner.
Size is 30" high, 36" long and 20" wide. Constructed with northern white cedar which naturally resist rotting in the outdoors.
Key Features
Joinery of the planters are combination of mortise and tenon with locking bolts and nuts

Wall panels are inserted into the dado of the structural frame for strong construction.

100% natural rot resistant white cedar wood construction

Horticulture therapy friendly.

Linseed oil coat for extra protection from the outdoors.

Our planters are semi-assembled in our factory for integrity and quality. Easy assembly with just a screw driver. Fully assembled planter boxes can be ordered with extra shipping cost for oversized parcels.
Pricing & Purchase