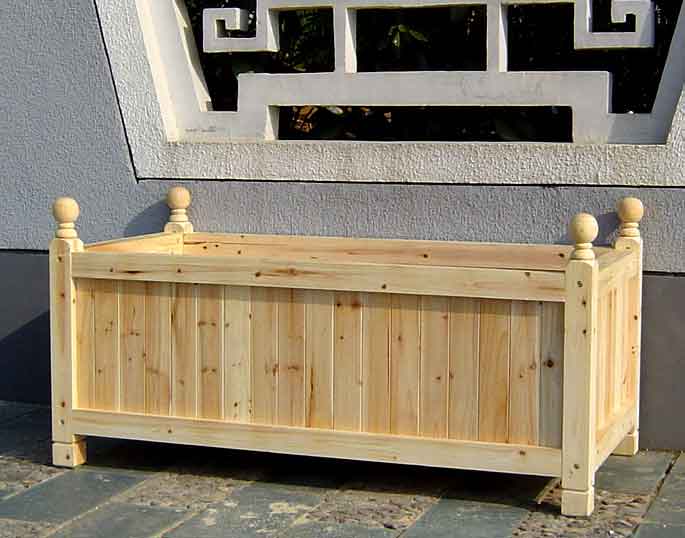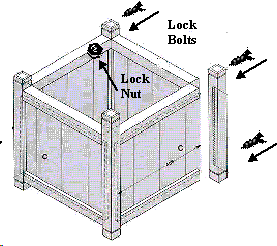 Estate Rectangle Planter MAR series Lock Bolts & Nuts brace all eight corners.
Our estate rectangular cedar wood planter is constructed with a combination of traditional mortise and tendon which locks the bolts and nuts together and anchors all eight corners of the planter in place - ideal for supporting heavy material. Square dados are cut into the frames while the tongue and groove wall panels are inserted into the "U" channel. All joints are glued and pressed to dry overnight. We use natural rot resistant northern white cedar wood to build our Estate line of wood planters.
The planter is finished with a coat of natural tung oil, but can also be painted white as well. Custom colors are available upon request. Many sizes are available, including our largest planter, which is 72" long, 28" wide and 28" high.
These estate planters are designed with solid turned ball finials at the top of each corner post, with chamfer at the bottom, allowing one to use the planter with either side facing upward.
Our shipping package contains four side panels and one base. All hardware is included for easy and convenient assembly.
This product may also be easily converted into an instant Estate Tree Box to add a decorative touch to any tree shaded area. It can also be used to cover up any exposed roots or cracked pavement caused by certain types of growth.

Download Manual for Square/Rectangular Estate Planter
Key Features
Combination of mortise and tendon with locking bolts and nuts to reinforce heavy loads.

Sides are contained within rebated trenches in both the legs and the rails. Decorative grooves are added to the top and bottom of the legs, and the tops are chamfered for added decorative effect.

Both the ball finial tops of the planter's four corner posts, base legs are chamfered to provide two alternative ways to arrange this product.

Our planters are semi-assembled in our factory for integrity and quality. Each package contains four side panels, one bottom panel and all hardware needed for assembly.

Finished with outdoor sealer to protect from outdoor elements.

Can be stained with half oil/half latex outdoor color stain.
Pricing & Purchase
Item

Description

Price

Size

MER-30

Estate rectangle planter

$72.38 + shipping

20"W x 20"H x 30"L

MER-36

Estate rectangle planter

$95.14 + shipping

22"W x 22"H x 36"L

MER-48

Estate rectangle planter

$118.21 + shipping

24"W x 24"H x 48"L

MER-60

Estate rectangle planter

$142.31 + shipping

26"W x 26"H x 60"L

MER-72

Estate rectangle planter

$163.20 + shipping

28"W x 26"H x 72"L

MEB-48

Bench attachment for planters

$44.53 + shipping

16"W x 48"L

MEB-42

Bench attachment for planters

$38.81
+shipping

16"W x 42"L