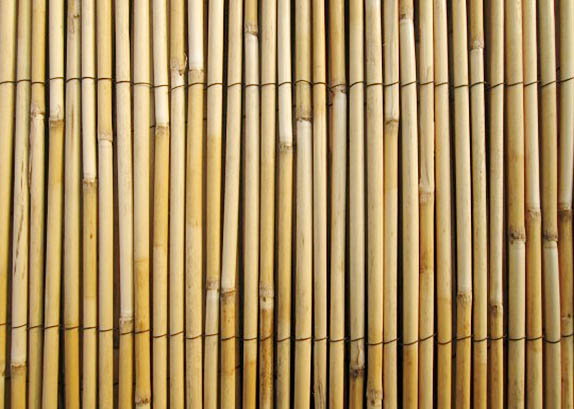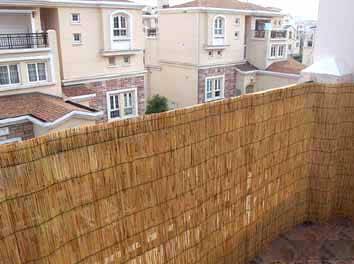 RF-6, Reed fence with black nylon coated wire Regular reed fence4 feet tall RF-4
Reed fences are inexpensive bamboo-like coverings for existing fences, walls, or screens. Reed fences are commonly used to cover chain link fences. Our exclusively designed reed fence uses only clean polished reed woven with natural looking black nylon coated wire that matches perfectly with the color tone of the reed, most other reed fence in the market are made with non polished reed with husk. Reed fences have an opacity of about 85 percent. It can be doubled making it totally opaque.
Our reed fences are woven with clean polished reed material, unlike most other reed fences in the market with unpolished reed with husk.
We encourage our customers to use cedar posts and stringers to install any rolled fences. Use the bamboo caps to compliment the finished look. Need help on installing the reed fence? Click on Installing Rolled Fences.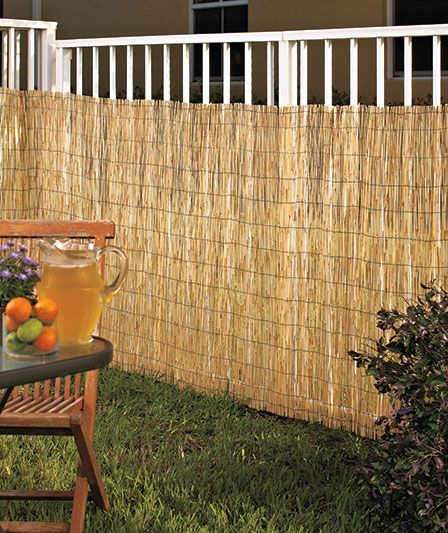 Regular reed fence6 feet tall RF-6 Regular reed fence5 feet tall RF-5 installed as privacy fence in a garden


Click for customers pictures.
Key Benefits
Reed fences are amazing in color and opacity, plus they are easy to install.

Our reed fence use only husk free polished reed.

Bamboo reeds have a naturally occurring coat of wax that repels moisture and protects the poles from deteriorating.

Use them as fencing, decoration, shading, or put it along the outside wall of your house to insulate it from the sun.

Natural material, rapidly renewable resources.

Use as fences or as a wall covering for indoors and outdoors.
Pricing & Purchase
| | | | | |
| --- | --- | --- | --- | --- |
| Item | Description | Price | Size | |
| RF-8 | Natural Reed Fence woven with black nylon coated wire | $48.82 + shipping, | 8'H x 14'L | out of stock |
| RF-6 | Natural Reed Fence woven with black nylon coated wire | $46.52 + shipping, | 6'H x 14'L | |
| RF-5 | Natural Reed Fence woven with black nylon coated wire | $39.83 + shipping, | 5'H x 14'L | |
| RF-4 | Natural Reed Fence woven with black nylon coated wire | $32.34 + shipping, | 4'H x 14'L | |
| RF-2 | Natural Reed Fence woven with black nylon coated wire | $18.12 + shipping, | 2'H x 14'L | |
| RF-1 | Natural Reed Fence woven with black nylon coated wire | $11.02 + shipping, | 1'H x 14'L | |