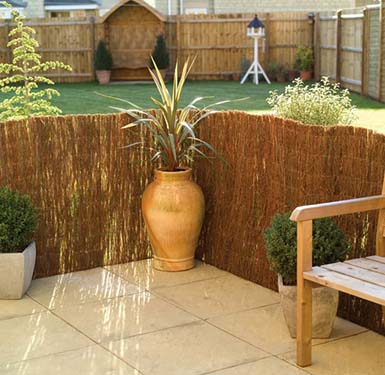 heather brushwood fence HF-15 Heather Brushwood Fence 6'H x 8'L, brown nylong coated wire.
Heather fences are also known as brushwood fences, they are ideal for covering up an unsightly chain-link fence, or creating a woodland theme pricacy screen fence around your property. Heather brushwood fences can be used to create a new fence mixed with wood or use them in decorative ways in the interior of your house.
Not all heather brushwood fence are made the same, please compare our heather fence products to others in the market.
Our heather fence products are woven with black nylon coated wire to prevent rust and the wire will blend right into the fence to give it a natural appearance, unlike other heather fences in the market which use bare metal wire.

Our heather is a minimum 3/4 inches thick, most others in the market are only 1/2 an inch thick. Our fence will provide better privacy than any other heather fences in the market. You can order a 1" extra for added thickness.
Heather fences or brushwood fences are made from weaving thick bundles of natural dwarf pines together with our exclusive brown nylon coated wire, to prevent rust, unlike the bare metal wires used by other heather fence suppliers in the market. Dwarf pine is fuzzy in texture and very dark, and will eventaully age to a rustic, silver grey color. They have a lifetime range between 6 to 8 years if properly installed. Brushwood heather rolled fences can be installed between secured wooden posts which ideally should be 6-8 feet apart. Our bamboo cap and moldings can add support as well as a rustic look to your brushwood heather fence. If you already have a fence structure like the chain link fence and want to cover it, you can just tie the heather brushwood fence to the structure, covering the chain link fence completely.
For information about installing rolled fences, click Installing Rolled Fences.

Close look at Heather brush fence install as roofing shade

Heather brush fence installed with wood fram

.
Key Benefits
Heather brushwood fences are made of dwarf pine which are fuzzy in texture and very dark.

Weaved together with brown nylon coated wire.

Good opacity for privacy fencing.

Our fence is 3/4" thick, more than double of the other products in the market. Check with other suppliers about the thickness of their fences before you buy.

Optional untrimmed natural top fence for added rustic look.

Call us if you need custom sizes. We understand that every home and garden project may vary.
Pricing & Purchase
| | | | | |
| --- | --- | --- | --- | --- |
| Item | Description | Price | Size | |
| HF-15 | Natural Heather Brushwood Fence woven with black nylon coated wire | $125.35 + shipping | 6' H x 14' L | |
| HF-4 | Natural Heather Brushwood Fence woven with black nylon coated wire | $89.43 + shipping | 4' H x 14' L | |
| HFC-6 | Heather Brushwood Fence Cap | $19.23 + shipping | 6"H x 6' L | |