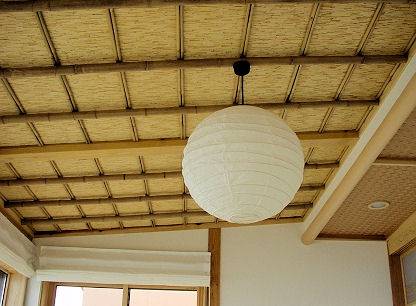 Black and regular bamboo ceiling moulding and half round moldings on the ceiling.
Bamboo trim moulding and caps are great for trimming walls, floors, ceilings, and fences, for all kinds of bamboo projects, softening the harsh corners and angles of certain areas in your home or garden.
Use them also with our bamboo fencing, wall cover, planks and poles.
Bamboo caps BFC-06 and BFC-07 are designed to snap on the edges of our flexible fences to give it a finished look. The BSC half round bamboo mouldings are usually used as a decorative stringer on the mid-section and top of the bamboo fencing, and occasionally on the indoor bamboo wall cover. It is also great for covering the joints between the bamboo ceiling panels. The bamboo ceiling mouldings are applied where the wall meets the ceiling, masking irregularities in the room's lines.
Our bamboo base moulding is used to cover the gaps between the floor and our bamboo wall cover. The bamboo wall trim gives a finished look to our bamboo wall covers. We offer them in regular bamboo and black bamboo.


Bamboo caps BFC at top and half round mouldings BSC on mid-sections gives it a finished look..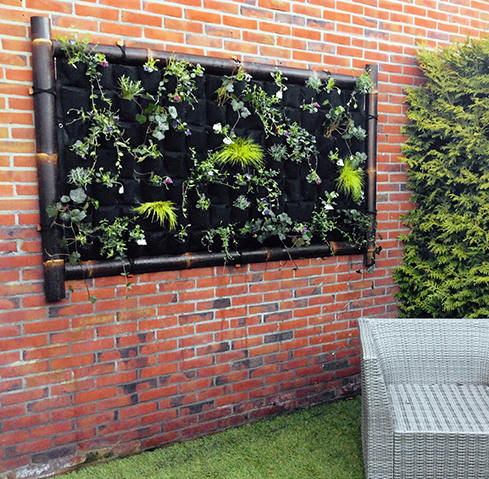 BBM-15 on the floor & wall trim BWM-01 on the top. BSC-03B Half round black bamboo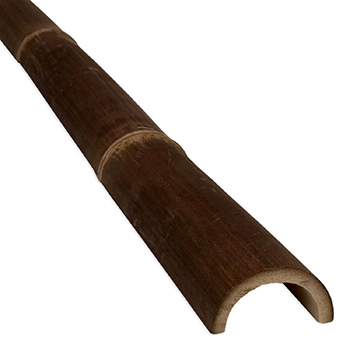 BSC-03Half round bamboo BSC-03Half round black bamboo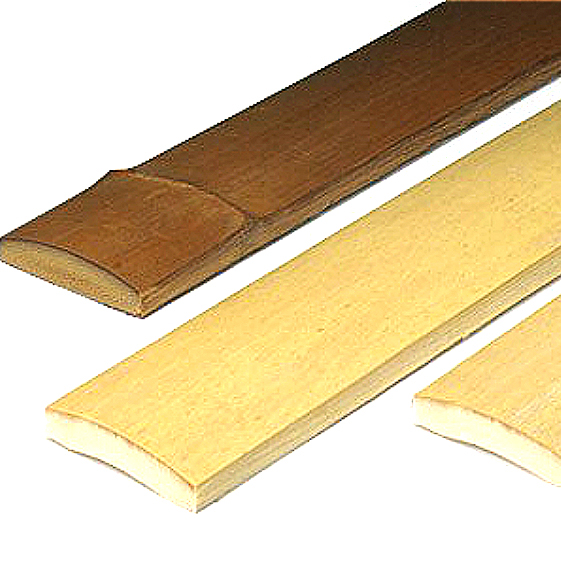 Regular and black bamboo moulding and trim
Key Features
Different sizes and styles for various applications.

Use as a moulding and capping for bamboo projects indoor and outdoor.

Use on ceiling, wall, floor and fencing.

Comes in regular and black bamboo.
Pricing & Purchase
| | | | | |
| --- | --- | --- | --- | --- |
| Item | Description | Price | Size | |
| BSC-02 | Half Round Bamboo Moulding, 1.5"-2" diameter | $10.83 + shipping | 1.5"-2"D x 8'L | |
| BFC-06 | Natural Bamboo Cap for fence top, 1.5"-2" diameter, 3/4" opening | $15.63 + shipping | 1.5"-2"D x 8'L | |
| BSC-03 | Half Round Bamboo, 2.5"-3" diameter | $13.33 + shipping | 2"-2.5"D x 8'L | |
| BFC-07 | Natural Bamboo Cap for fence top, 2"-2.5" diameter, 1 1/2" opening | $22.63 + shipping | 2"-2.5"D x 8'L | |
| BSC-03B | Half Round Black Bamboo , 2.5"-3" diameter | $16.63 + shipping | 3"-2.5"D x 8'L | |
| BBM-15B | Black Bamboo Base Moulding, 1.5" wide | $9.63 + shipping | 1.5"D x 8'L | |
| BBM-15 | Bamboo Base Moulding, 1.5" wide | $9.23 + shipping | 1.5"W x 8'L | |
| BWM-01 | Bamboo Wall Trim, 1" wide | 8.83 + shipping | 1"Wx 8'L | |
| BWM-01B | Black Bamboo Wall Trim, 1" wide | 8.83 + shipping | 1"Wx 8'L | |