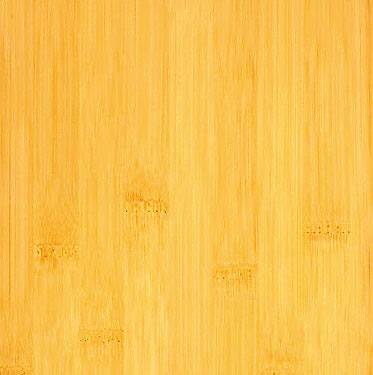 Bamboo veneer horizontal blonde horizontal carbonized Bamboo veneer vertical blonde
Bamboo veneers are manufactured from sliding thin layers of veneers from bamboo blocks laminated with water-proof adhesive and bamboo strips. This material is suitable only for interior use such as for cabinetry, furniture construction, interior paneling, counter tops, and for any other uses where traditional hardwood is applied.
Comes in standard sizes of 16" x 96" or 48" x 96", thickness is 1/42". We offer them in two different cuts and colors: wide slat and the narrow slat cut, the blonde and the brown carbonized color. Fleece backing material makes it very easy to work with which minimizes splitting of the thin veneer material.
For information on usage and storage of our bamboo veneers please click here.

Bamboo veneer used in furniture Blonde color bamboo veneer on kitchen cabinet
Key Features
Manufactured from natural Muso bamboo, famous for its strength and durability.

Bamboo veneer is great for walls, ceilings, furniture, etc.

Bamboo veneer with fleece backing materials to prevent splitting during work.

Different colors and patterns to choose from.

The bamboo veneer is an environmentally friendly product; rapidly renewable and sustainable.
Pricing & Purchase
| | | | | |
| --- | --- | --- | --- | --- |
| Item | Description | Price | Sizes | |
| BV-VB | Bamboo veneer narrow slat blonde finished, with fleece backing materials | $34.31 + shipping | 4'W x 8'H x 1/42"D | |
| BV-VB16 | Bamboo veneer narrow slat blonde finished, with fleece backing materials | $14.31 + shipping | 16"W x 8'H x 1/42"D | |
| BV-VC | Bamboo veneer narrow slat carbonized smoke finished, with fleece backing materials | $34.31 + shipping | 4'W x 8'H x 1/42"D | |
| BV-VC16 | Bamboo veneer narrow slat carbonized smoke finished, with fleece backing materials | $14.31 + shipping | 16"W x 8'H x 1/42"D | |
| BV-HB | Bamboo veneer wide slat blonde finished, with fleece backing materials | $38.24 + shipping | 4'W x 8'H x 1/42"D | |
| BV-HB16 | Bamboo veneer wide slat blonde finished, with fleece backing materials | $18.24 + shipping | 16"W x 8'H x 1/42"D | |
| BV-HC | Bamboo veneer wide slat carbonized smoke finished, with fleece backing materials | $38.24 + shipping | 4'W x 8'H x 1/42"D | |
| BV-HC16 | Bamboo veneer wide slat carbonized smoke finished, with fleece backing materials | $18.24 + shipping | 16"W x 8'H x 1/42"D | |