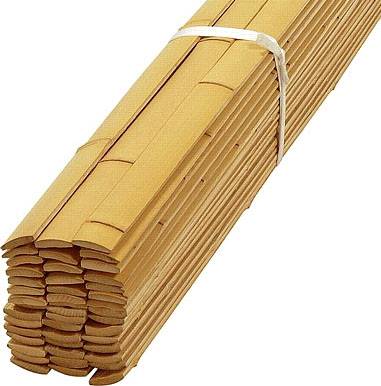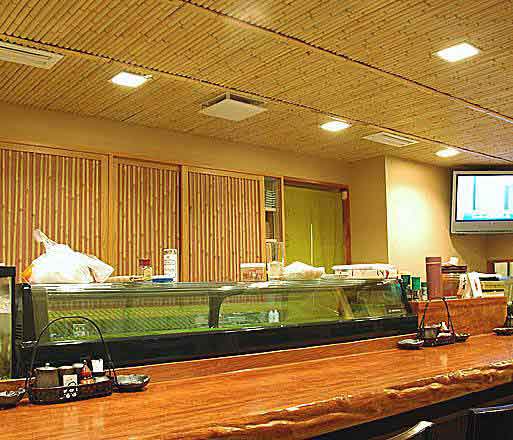 Natural Bamboo Planks in bundle Natural Bamboo planks inside a Japanese Restaurant
Natural bamboo planks or bamboo slats will add a tropical atmosphere to your home and garden. It retain the look and appearance of the bamboo. Please make sure you pre-drill the pilot holes first before using screws or nails to secure them to where you want to place them.
Bamboo slats are cut to a uniform width and length. We only use Java Black Bamboo and Guadua bamboo to cut our bamboo plank material. Bamboo cap and moldings are available to put a finishing touch to your bamboo design projects. Each plank is 6' or 8' long and 1 5/8" wide and about 1/4" thick. You can choose from either the natural yellow or natural bamboo plank, finished with lacqure.
Please click working with bamboo moldings for more information on finishing your bamboo wall and ceiling projects. Our bamboo planks and slats can be custom stained with TWP Amteco 300 for a different color tone.

Natural Black bamboo planks wall Lacquered Natural black bamboo planks
Key Features
Bamboo slat are natural without finish. You can do your own finishing.

They can be used indoors and outdoors. Build a natural bamboo wall or ceiling, or use them to build your own tiki bar or fence,etc.

Comes in 6' or 8' long.
Pricing & Purchaseh
Item

Description

Price Pick your Quantity Package discount after add to cart

Size

BMP-026

Bamboo slat, natural

single pc/ $4.12 + shipping
set of 5/ $19.55 + shipping
set of 10/ $39.14 + shipping

1 5/8"W x 72"L

BMP-028

Bamboo slat, natural

single pc/ $4.85 + shipping
set of 5/ $23.76 + shipping
set of 10/ $46.76 + shipping

1 5/8"W x 96"L

BMP-026M

Natural Black Bamboo slat

single pc/ $4.24 + shipping
set of 2/ $8.50 + shipping
set of 10/ $40.42 + shipping

1 5/8"W x 72"L

BMP-028M

Natural Black Bamboo slat

single pc/ $4.84 + shipping
set of 2/ $9.58 + shipping
set of 4/ $18.87 + shipping
set of 10/ $44.88 + shipping

1 5/8""W x 96"L