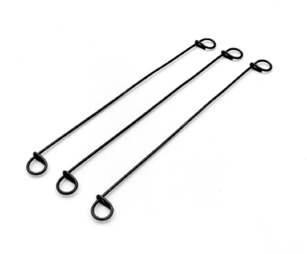 Our double loops copper wire tie Double loop wire tie TT-8, Hand tying tool
| | |
| --- | --- |
| Bamboo Diameters | Loop Wire Tie Size |
| 2 inch + 2 inch | 24 inch |
| 2 inch + 1 1/2 inch | 24 inch |
| 2 inch + 1 inch | 24 inch |
| 2 inch + 3/4 inch | 24 inch |
| 1 1/2 inch + 1 inch | 16 inch |
| 1 1/2 inch + 3/4 inch | 16 inch |
| 1 1/2 inch + 1/4 inch | 16 inch |
| 1 inch + 1 inch | 16 inch |
| 1 inch + 3/4 inch | 12 inch |
| 3/4 inch + 3/4 inch | 12 inch |
| 3/4 inch + 1/4 inch | 12 inch |
| 1/4 inch + 1/4 inch | 12 inch |
The copper tie is used for lashing together bamboo poles to construct a fence or trellis. These copper coated metal wires have a small loop at each end to permit easy wrap-around access and tightening with a tying tool. Palm twine can be tied to the top to hide the wire.
Our manual and tying tools makes the job of lashing poles together easier and faster. For bamboo fence lashing, use double-loop end wire ties.
Key Features
Copper wire tie is used in building bamboo fencing.

Hand tie tool for turning the wire tie.

Different size wire ties for various applications.
Pricing & Purchase
| | | | | |
| --- | --- | --- | --- | --- |
| Item | Description | Price | Sizes | |
| DLW-12 | Copper double loop tie wire, bundle of 80 wire | $5.54+ shipping | 12"L | out of stock |
| DLW-16 | Copper double loop tie wire, bundle of 80 wire | $6.54+ shipping | 16"L | out of stock |
| DLW-24 | Copper double loop tie wire, bundle of 80 wire | $7.54+ shipping | 24"L | out of stock |
| TT-8 | Hand tying tool | $9.84+ shipping | 8"L | out of stock |