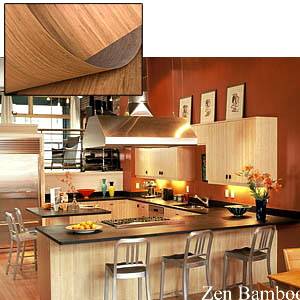 Uses:
Canyon Peak manufactures furniture grade bamboo veneer for interior applications. Intended uses: cabinetry, furniture, interior paneling, wall treatments and any other interior application where veneer wood products are needed to be used.
Recommendations for Storage and Handling:
The following basic steps in handling and storage are recommended to help avoid or minimize some of the problems associated with wood movement.
Veneer should be stored flat.

Humidity and temperature controls that are capable of maintaining a constant 40 to 60% relative humidity and 65 to 75°F should be installed.

Extreme heat or coldness should be avoided.

Veneer stored in an uncontrolled environment should be brought into the fabrication area 24 to 48 hours prior to being processed. Evenly distributed weight of the stack will help the veneer acclimate uniformly.

All exposed veneer surfaces should be sealed.

Allowance for linear expansion should be incorporated into the design of the product.

Veneer should not be taken to a job site until the site is completely ready for the product to be installed. It should be allowed to acclimate to the job site before installation.

Veneer should not be installed over wet or unfinished drywall.

The finished product should not be installed until after it has been heated, ventilated, and cooled.
Finishes & Adhesives:

Independent testing was performed to ensure that the adhesive between the bamboo slats is compatible with methyl alcohol and methyl ethyl ketone-based products. The adhesive used in the back of our 1/42" paper-fleece backing meets specifications as a D-4 waterproof glue. Veneer must be bonded to a suitable substrate of a reliable quality. MDF (medium density fiberboard) is the most stable substrate, followed by industrial particleboard, veneer-core plywood, and the least stable substrate is hardwood. We do not recommend direct application to drywall, plaster walls, concrete walls or cardboard products, as delaminating may occur. Veneer should be applied to MDF substrate to cover these surfaces. Installation over substrates that have been treated with a fire-retardant agent is not recommended. If using a hot press method to laminate veneer, the best temperature is at 120° celsius. When applying finishes, avoid over-saturation of the veneer surface. Follow manufacturer's suggested temperature and thickness for application. We recommend testing the adhesive or finish you wish to use to ensure the overall compatibility between the treatment, the veneer, and the installed environment. Please note that the adhesive used to manufacture the veneer is not food grade. If the surface is to be used for food preparation, a food grade sealer is recommended.

Due to varying application environments and situations, these guidelines do not guarantee results and should be used as a supplemental source of information only. For more information about relative humidity and its relationship to moisture content, please reference the Architectural Woodwork Institute (AWI) web site at

www.awinet.org and the Hardwood Plywood and Veneer Association (HPVA) website at www.hpva.org.