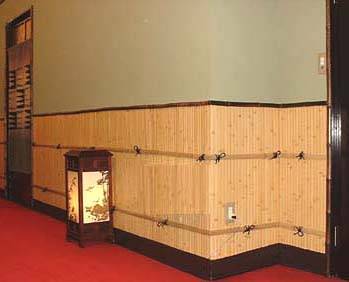 Bamboo wall cover with half split bamboo molding & black twine
Our bamboo pole wall covers are strung together with copper wire. To install them over the wall or ceiling, just unroll them and lay them flat onto the wall, by adjusting the half split bamboo poles that are loosened for rolling and unrolling. Pull the bamboo pole walls together tight and secure the cover to the wall with screws. Make sure you pre-drill the holes through the bamboo first. Start on one end, them gradually smooth them over towards the other end like installing carpet, you might need to nail the corners or the middle of the wall if sagging develops.
If you are using rolled bamboo, willow or reed fences with wire lines, they should be stapled onto the wire only. This allows the staple to partially disappear between the slats or poles and does not damage them.
The light or dark colored bamboo planks cannot be pasted onto walls or ceilings with a water based paste. This will cause the material to swell with water and shrink after the paste dries. This will result in the material popping off the wall. You should capture this material with moldings on the ends. Staples can be inserted between and in line with the slats for ceilings. Staples are normally not needed for walls since the product is stiff enough not to buckle out when the ends are captured.
For very bold ceilings or bamboo wall treatments, half round bamboo is normally installed with deck screws or dry wall screws, stick by stick. Pre-drill the bamboo and countersink, but do not over-tighten the screws as the bamboo will crack. Half rounds up to six feet can be split with a knife. For longer lengths the natural left hand twist of the bamboo grain makes it necessary to make the half round cuts with a saw. The screw line can be covered with a thin slat or another half round if desired.