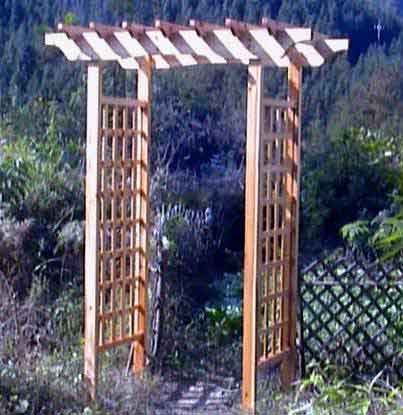 North Arbor Arbor with 2 trellis fence VFT-26 and seat option
Our North Arbor is elegantly designed and built with heavy White Cedar. The top face board is built with 1 1/2" cedar planks, with an elegant arc lining in the middle. The roof trusses are notched to fit over the front and rear face boards.
The side panels are 24" wide, with cedar lattice grids inserted into the dado of the side panels for a finished look. The side panels are assembled to the top face boards notched in for firm and strong structure. The arbor set is sanded and finished with a coat of natural tung oil.
We offer a few additions as options to our North Arbor, the 2' W x 6' H trellis fences are an excellent back ground support fence as well as adding a feeling of coziness while sitting on the arbor seat. VFT trellis fences come with designer diamond fixture with bamboo lattice while the EFT is the plain trellis fence without the diamond fixture.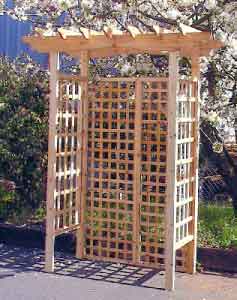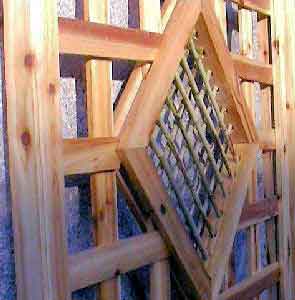 North Arbor with two EFT plain trellis fence
Key Features
The North Arbor is built with Northern White Cedar. It designed with heavy 1 1/2" thick ladder top and two side panels, can be easily assembled with just bolts and nuts and simple hardware tools. Dimension is 48"W x 7'H.

The whole unit consist of three pre-assembled sections, the side panels and the ladder top.

The side panels are recessed cut, the lattice are insert into the post for finished look.

Optional trellis fences and seat are provided.

All parts are sanded and finished with natural tung oil.
Pricing & Purchase
| | | | | |
| --- | --- | --- | --- | --- |
| Item | Description | Price | Sizes | |
| MA-2 | North Arbor | $177.97 + shipping | 48"'W x 84"H | out of stock |
| MS-42 | Seat Attachment | $38.95 + shipping | 24"'W x 42"L | out of stock |
| EFT-26 | Estate Trellis, flat top, need two to set up with arbor | $27.35 + shipping | 24"'W x 72"H | out of stock |
| VFT-26 | Villa Trellis, flat top, choice of diamond fixture, need two to set up with arbor. | $32.35 + shipping | 24"W x 72"H | out of stock |