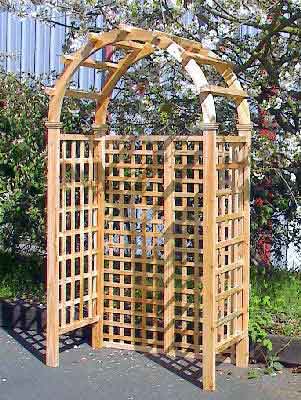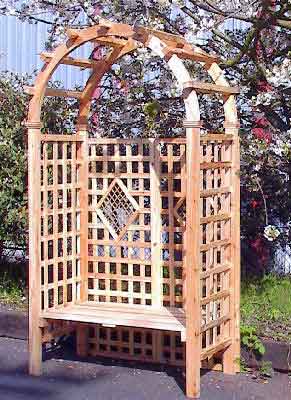 West Arbor with two EFT trellis fence Arbor with two VFT single diamond trellis fence
The West arbor is a classical rose arbor featured in gardens, with its elegant round top, and two heavy side panels built with white cedar. The lattice in the side panels are glued and nailed into dado channels on the sides of the panels, it gives the panels a completely finished look.
Our West arbor is designed to go with a supporting trellis fence, you can choose the classic plain trellis fence EFT or the designer trellis fence VFT which features a diamond fixture with bamboo lattice inside. The seat is optional.
The arbors and the trellis fences are sanded and coated with natural Tung oil, providing stable outdoor protection for your arbor for years to come.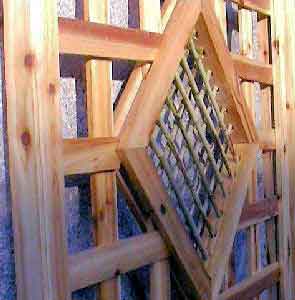 Detail of trellis fence woodwork shown
Key Features
The West Arbor is the traditional arc top arbor presented in gardens for decades. They consist of two half arc tops and two side panels put together easily by bolts and nuts. Dimension is 54" W x 7' H. The walk through width of the arbor is 48".

Designed to be set up with a supporting trellis fence. The seat is optional.

Side panels are pre-assembled and can be put together with the top arc unit with 8 bolt and nuts.

The side panels are recessed cut, the lattice are insert into the post for finished look

Seat attachment make it an ideal place in your garden to sit down and relax.
Pricing & Purchase
Item

Description

Price

Size

MA-3

West Arbor, need to purchase 2 each of either EFT-26 or VFT-26 supporting trellis fence.

$178.38
+shipping

48"'W x 84"H

MS-42

Seat Attachment

$38.95
+shipping

24"'W x 42"L

EFT-26

Estate Trellis, flat top

$27.35
+shipping

24"'W x 72"H

VFT-26

Villa Trellis, flat top, choice of diamond fixture

$32.35
+shipping

24"W x 72"H