VRT-27 VRT-27 Round top trellis VRT-27DB with bamboo diamond
Our exclusive line of Villa Trellises are cedar wood framed trellises with decorative fixtures inside. Bamboo stakes are inserted into the diamond fixture for added charm.
The flat or round top trellises are framed in with dado cut 2x2, cedar wood lattice and the diamond fixture are glued and nailed into the channel which gives the Villa trellises a finished look and added strength to hold heavy vines or any other climbing plants. The 2x2 cedar frame are glued and screw together to give the trellis a strong holding frame. All Villa Trellises are sanded and coated with a layer of natural Tung oil, famous for it stable quality in protecting wood outdoors. The Villa Trellis fence panels are pre-assembled in our factory, no assembly is required.

There are many uses other than using them as a supporting trellis, you can also easily mount them on your planters, they are also very popular in the garden. Villa lattice fences can provide privacy from the street and neighbors, define special areas for outdoor living, and control sun as well. They're also handy for displaying flowers, vines and shrubs. There are many uses other than just trellis fences, the Estate trellises can also be used as a simple gates.
We also offer a full line of plain lattice trellis with different shapes and sizes.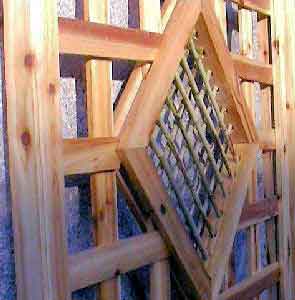 Detail of trellis wood work shown
Key Features
Villa trellis fence panels are completely pre-assembled in factory, no assembly required.

The trellises are framed using 2x2 white cedar lumber, give them finished look and well as strength to hold heavy vines or climbing plants.

Diamond fixture with bamboo stakes incorporated into the trellis.
Wood lattice are insert into the dado channel of the cedar wood frame, glued and nail, the frame work are screw together for extra holding strength.

All trellises are sand and coated with natural tung oil for stable protection in the outdoor.

Can be used anywhere in the garden for decorative and practical purposes, and you also mount them on the side of planters

Two basic top designs, round or flat, and come in many sizes for different application and uses.
Pricing & Purchase