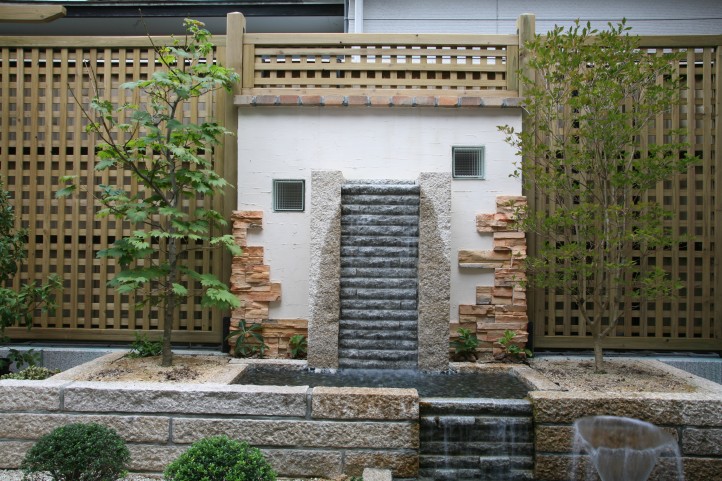 Estate Wing set with round top lattice ERT-47 Aged Estate lattice panels framed in posts.
Lattice screens are able to hide many imperfections in yards. You may have an unsightly HVAC unit lying on the ground next to your home, where you'd rather have plants. Or perhaps you'd like to fence in a garbage storage area or the underpinnings of a deck, so that they're not so visible. Wood lattice screens work well for these common issues that people face everyday as well as other screening needs. Vines can later be trained up the wood lattice fencing to provide further screening.
Our exclusive line of Estate lattice fence are very popular because they are well designed to be used as fencing, dividers, screening or just as a standalone trellis. The flat or round top lattice fences are framed in with dado cut 2x2, while cedar wood lattice are glued and stapled into the channel. The 2x2 cedar frame is completely pre-assembled and all wood components are glued and screwed together. Estate Trellises are finished with natural outdoor sealer. You may also consider our bamboo lattice fence panel if you like to look at other alternatives.

ERT-27, 24"W x 84"H
Key Features
Lattice panels are pre-assembled in the factory, no assembly required.

The lattice panels are framed using 2x2 white cedar lumber, give them a finished look as well as strength to hold heavy vines or climbing plants.

Wood lattice are inserted into the dado channel of the cedar wood frame, glued and nailed. The frame work is screwed together for extra holding strength.

All lattice are sanded and coated with natural tung oil for stable protection in the outdoors.

Used as lattice fences in outdoor settings, they are also as popular as garden trellis for supporting climbing vines.

Two basic top designs, round or flat, comes in many sizes for different application and uses.
Pricing & Purchase
| | | | | |
| --- | --- | --- | --- | --- |
| Item | Description | Price | Size | |
| ERT-27 | Estate Lattice Panel, round top | $43.32 + shipping | 24"'W x 84"H | |