LLF-66V log Fence
Our own design ladder top log stockade fence are made up of four corner log frames that are constructed with mortise and tenon joinery. Half log slat with dado cut at both end can be inserted easily into the open channels along the log frame. This fence is the ultimate rustic log wood privacy fence for your home and garden. The 6'x 6' has the option of vertical or horizontal log wall pattern.
Comes disassembled for easy transportation. The fence package consists of four two posts with footing, two horizontal fence frames, two stringers and half logs making up the wall panels.
The log posts are designed for side, middle and 90 degree corner installation. Depending on the number of panels you need and the configuration, you may need different posts to complete your fence sections, contact us for more details. All posts comes with 18" footing for burial into the ground. Natural with no finish, you can stain or paint with the choice of your color.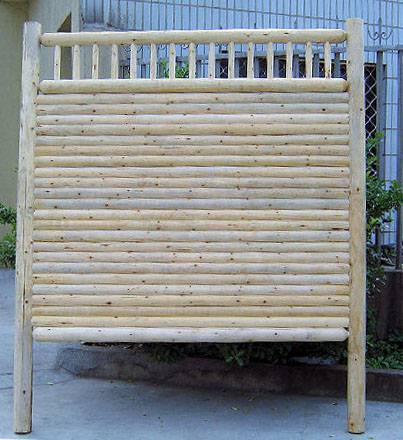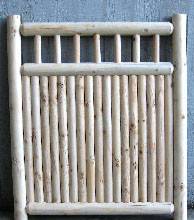 LLF-66H horizontal log fence showing 18"footing 4' x 4' LLF-44V
Key Features
Split log wood stockade fence brings out the beauty of wood in their original form.

6' x 6' have the option of horizontal or vertical log wall style.

Back of the fence is flat.

They are an excellent use for privacy.

Log fences are framed together with mortise and tenon joinery, ensuring stability and can be assembled easily.

Comes in natural form without any finish, you may stain or paint the panels with your choice of color.

Different post configuration for standard fence installation. 18" extra footing for burial into the ground.
Pricing & Purchase
| | | | | |
| --- | --- | --- | --- | --- |
| Item | Description | Price | Sizes | |
| LLF-66V | Ladder top stockade vertical log fence panel. | $148.32 + shipping | 72"H x 72"W | |
| LLF-64V | Ladder top stockade vertical log fence panel. | $118.61 + shipping | 48"H x 72"W | |
| LLF-66H | Ladder top stockade Horizontal log fence panel. | $148.56 + shipping | 72"H x 72"W | |
| LLF-44V | Ladder top stockade vertical log fence panel. | $86.61 + shipping | 48"H x 48"W | |