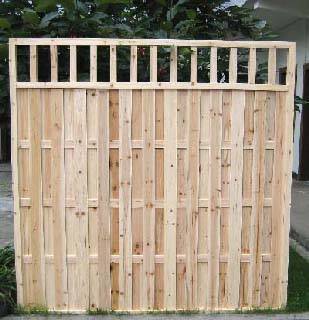 Vertical board on board fence WPF-66D Aged WPF-66D Installed (posts not included)
There are many reasons for building a wood fence. Practical reasons such as, security, noise reduction, and boundary definition, as well as improving the look of your yard are all important key factors in completing your living quarters. Our ladder top shadowbox or board on board wood fence comes with either vertical or horizontal board style.
Our cedar vertical or horizontal shadowbox privacy fence panel with ladder top is one of our top selling cedar wood fences. The dual sided cedar panel over laps each other to create an efficient privacy screen for your back yard, yet allows just enough light to seep through. The dual sided finish makes it a great neighboring fence also.
Installation requires extra posts to support the fence panels. Side panel add ons EFT-18S, EFT-18D, EFT-18P are also available for a more open look and feel. They should be added on between the regular wood panels.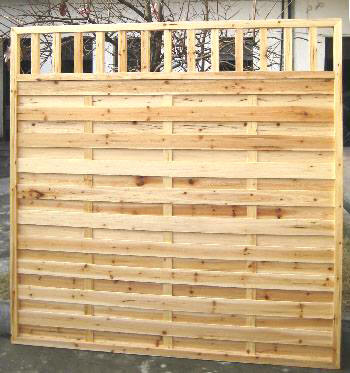 EFT-18S, EFT-18D, EFT-18P WPF-66DH Horizontal board shadowbox fence.
Key Benefits
Naturally rot resistant northern white cedar construction.

Shadow box, board on board fence style.

Vertical or horizontal boards.

Option of vertical or horizontal boards for a different look.

Pre-built panel, easy installation on the posts.

Good opacity for privacy fencing.

Optional side lattice panel is available for added openness to your privacy fence.
Pricing & Purchase
| | | | | |
| --- | --- | --- | --- | --- |
| Item | Description | Price | Size | |
| WPF-66D | Ladder Top shadow box fence with vertical boards. | $122.31 + shipping please contact us for discounted freight for 8 panels & over | 72"H x 72"W | |
| WPF-66DH | Ladder Top shadowbox Fence with horizontal boards. | $122.31 + shipping please contact us for discounted freight for 8 panels & over | 72"H x 72"W | |
| EFT-18S | Square Trellis add on side Panel | $26.31 + shipping | 72"H x 18"W | out of stock |
| EFT-18D | Diamond Trellis add on side Panel | $26.31 + shipping | 72"H x 18"W | out of stock |
| EFT-18P | Pyramid Top Trellis add on side Panel | $32.42 + shipping | 84"H x 18"W | |